Akhyuk Rinpoche 阿秋仁波切
跳至導覽
跳至搜尋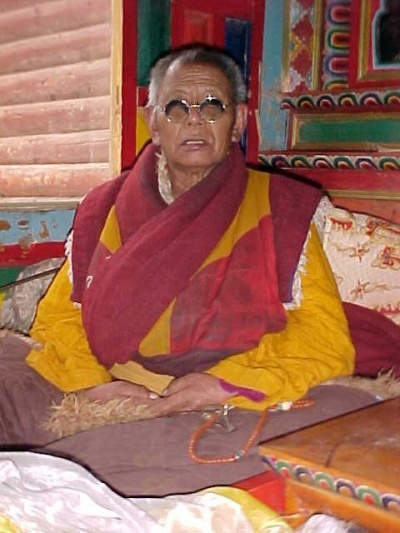 Lama Akhyuk Rinpoche (Tib. ཨ་ཁྱུག; Wyl. a khyug)[A 1] aka Jamyang Lungtok Gyaltsen ('jam dbyangs lung rtogs rgyal mtshan) or Drubwang Lungtok Gyaltsen (grub dbang lung rtogs rgyal mtshan)[B 1] (1927-2011), was one of Tibet's most renowned meditation masters of recent times. Together with the late Khenpo Jigme Phuntsok Rinpoche (1933-2004), he revitalized the study and practice of Buddhism in Eastern Tibet. He was regarded as an emanation of Longsal Nyingpo (1625-1692).[C 1]
喇嘛阿秋[A 2] 仁波切,也稱蔣揚.龍多.嘉岑,或竹旺.龍多.嘉岑[B 2](1927-2011),是近代西藏最著名的禪修大師之一。和已故的堪布晉美彭措仁波切(1933-2004)一同復興了藏東的佛學研究與行持。他被認為是龍薩.寧波(1625-1692)的化身。[C 2]
Biography 生平
Akhyuk Rinpoche was born in Trom (khrom), Eastern Tibet in 1927.[D 1] He entered Trom Dokhol[E 1] monastery and was ordained at age fifteen, serving teachers of the Sakya, Nyingma and Gelug lineages. He received the Sakya teachings on the Lamdré cycle from Dezhung Ajam Kunga Gyaltsen. Eventually, he went to study with Tromgé Arik Rinpoche, a student of Khenpo Ngawang Palzang, serving him for thirty-three years. [F 1] During the military occupation of Tibet, Lama Akhyuk was his guru's attendant, enduring great hardship without regard for his own health or life, and so proving to be an ideal heart-son. Arik Rinpoche empowered him as a holder of his lineage, conferring on him all of the advice and instructions of the Lamdré cycle and the Dzogchen approach.
1927年,阿秋仁波切誕生於東藏的崇(Trom)地[D 2]。十五歲時,他進入崇的多科寺[E 2] 出家,侍奉薩迦、寧瑪與格魯傳承的上師。他從德雄.安江.貢噶.嘉岑(Dezhung Ajam Kunga Gyaltsen)處接受了薩迦的「道果」教法。最後,他跟隨拿旺.巴桑堪布的學生——崇給.阿瑞仁波切(或譯昌根.阿立仁波切)學習,服侍阿瑞仁波切達三十三年[F 2]。在西藏遭到軍事占領時,阿秋喇嘛是其上師的侍者,他不顧自身健康與生命安危,忍受極大的艱苦,證明了他是理想的心子,於是阿瑞仁波切授權他成為自己的傳承持有者,將「道果」教法與大圓滿修行的所有教言與訣示盡皆傳授給他。
After Arik Rinpoche passed away in 1988, Akhyuk Rinpoche began teaching, drawing tens of thousands of monastic and lay practitioners from across Tibet and China to the encampment of Yachen Gar that he had established in 1980 in an isolated valley near Kandze in Sichuan province. They settled around him in the barren highlands, where the monks and nuns lived in simple mud-walled houses.
1988年,阿瑞仁波切圓寂之後,阿秋仁波切開始傳法,吸引了上萬僧俗二眾行者從藏漢各地前來亞青營地(亞青寺)。這是阿秋仁波切在1980年於四川省甘孜附近一座與世隔絕的山谷所創建的,信眾在貧脊高地處圍繞著阿秋仁波切定居下來,僧眾和尼眾則居住在簡單的泥牆屋裡。
Akhyuk Rinpoche experienced great hardship during his life, especially during the Cultural Revolution from 1966-1976. He lived for decades in his one-room hermitage, sitting in meditation or receiving students and pilgrims. His students spoke in awe of his vast learning, saying that he could recite entire books from memory, and he was renowned for the way in which he imparted instructions on meditation.
阿秋仁波切的一生歷盡滄桑,尤其是在1966到1976年的文化大革命期間。數十年他都居住在只有一個房間的閉關房裡,禪坐或者接見弟子與朝聖者。他的弟子們談及仁波切的博學時,都敬畏不已,表示仁波切可以憑記憶完整背誦幾部書。仁波切也因其指導禪修的[獨特]方式而著稱。
Yachen Gar, also known as Yachen Orgyen Samten Chöling, offered students a comprehensive Buddhist education. During the 1990s, the population of monks and nuns grew to over 7,000. The authorities deemed the encampment of huts and tents to be problematic, and in 2001 they ordered the demolition of large parts of Yachen Gar. Akhyuk Rinpoche remained there during the demolitions and continued to teach. The monastic community survived, and in recent years a new nunnery was constructed.
亞青寺,也稱作亞青鄔金禪林,為學生們提供完整的佛學教育。在1990年代,僧眾與尼眾增長到超過七千人。當局認為小屋與帳篷的聚居地可能引發問題,而在2001年下令拆毀亞青營地的大部分建構物。在拆除之時,阿秋仁波切仍然留在亞青,繼續傳法。僧團倖存下來,並且近年也建造了一座新的尼院。
Akhyuk Rinpoche had a close connection with Khenpo Jikme Phuntsok Rinpoche who, along with Sogyal Rinpoche, was recognized as an incarnation of Tertön Sogyal Lerab Lingpa (1856-1926). When Khenpo Jikme Phuntsok Rinpoche passed away in 2004, Akhyuk Rinpoche was considered to be the senior-most teacher of the Nyingma tradition residing in Tibet.
阿秋仁波切和堪布晉美彭措仁波切相當親近。晉美彭措仁波切以及索甲仁波切都被認證為伏藏師索甲.列饒.林巴(1856-1926)的轉世。堪布晉美彭措仁波切於2004年圓寂後,阿秋仁波切被認為是寧瑪傳承駐於西藏最為資深的上師。
Akhyuk Rinpoche passed away at his hermitage on 23 July 2011.
2011年7月23日,阿秋仁波切在他的關房中圓寂。
It is reported that after his passing the body of Achuk Rinpoche shrunk from a height of 1.8 meters shrunk to about 1 inch tall, a sign of achieving the rainbow body[G 1] [H 1].
Writings 著作
Lama Akhyuk's collected writings have been published in three volumes.[I 1] They include outer, inner and secret autobiographies, a guide to Yachen, and a collection of advice.
阿秋喇嘛的著作集結為三函出版[I 2] ,包括外、內'密傳記、亞青簡介,以及教言合集。
Notes 註解
A
↑

Terrone (2011) p.90 states that the name Akhyuk was given by his parents in order to protect him from curses

↑ 依據特榮(Terrone)於2011年的著作,頁90,「阿秋」這個名字是由其父母所取,以避免邪祟。(中譯注:可參閱亞青寺網站,阿秋喇嘛自傳中關於父母取名的描述。「西元1927年,藏曆火兔年星曜會合極其善妙日之清晨,伴諸稀有瑞相吉兆誕生。為淨垢穢障故,起名『米切兒』」http://www.yqwjcl.com/Article/ArticleShow.asp?ArticleID=57
B
↑ Nyoshul Khenpo (2005) gives his name as Drubwang Lungtok Gyatso, but this seems to be an error.
↑

在紐修堪布(Nyoshul Khenpo)於2005年的著作中,將阿秋喇嘛的名字寫為竹旺.龍多.嘉措 (Drubwang Lungtok Gyatso),但此名疑為誤植。
C
D
E
F
↑

Nyoshul Khenpo (2005), but Terrone (2009) p. 73 says forty-three years.

↑

此處[33年]是依據紐修堪布2005的著作,但特榮 (2009) 73頁説是43年。
G
H
I
↑ gdod ma'i mgon po grub dbang lung rtogs rgyal mtshan dpal bzang po'i gsung 'bum
↑ gdod ma'i mgon po grub dbang lung rtogs rgyal mtshan dpal bzang po'i gsung 'bum
Further Reading 進階閱讀
Nyoshul Khenpo, A Marvelous Garland of Rare Gems: Biographies of Masters of Awareness in the Dzogchen Lineage, Padma Publications, 2005, pages 521—522.
Pistono, Matteo. Meditation Master in Tibet Dies; Last of His Generation, Huffington Post, 27th July 2011
Terrone, Antonio. 'Householders and Monks: A Study of Treasure Revealers and their Role in Religious Revival in Contemporary Eastern Tibet' in Sarah Jacoby and Antonio Terrone, Buddhism Beyond the Monastery: Tantric Practices and their Performers in Tibet and the Himalayas, Brill, 2009.
Internal Links 內部連結
Rigpa Wiki
""Decode Wiki"" hereby provides the Chinese translation of certain contents from ""Rigpa Wiki"" with permission for all readers and free of charge, however, does not serve as its official translation. Suggestions and corrections are highly appreciated.
「解密維基」經「本覺維基」同意將其網站內容進行中譯並提供讀者免費參照,但非該網之官方中譯。敬請各方不吝指教。