Wangdor Rinpoche 旺度仁波切
跳至導覽
跳至搜尋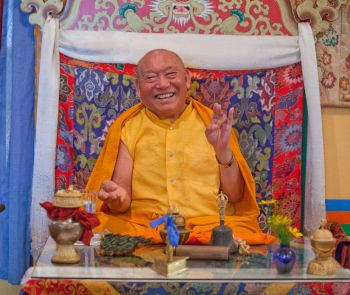 Wangdor Rimpoche is a Tibetan monk and lama based in Tso Pema, India, where he has spent many years in retreat under the direction of Dudjom Rinpoche. 旺度仁波切(1925?-2019)是一位著名的大圓滿上師,長年住在印度措貝瑪(蓮花湖)聖地的山洞中。仁波切有關大圓滿和大手印的心要教導,傳遍於世界各地的弟子間。
Birth and Family
Wangdor Rimpoche was born in Tibet.
Training
Being a Rime teacher, Wangdor Rimpoche received teachings from the following masters[1]:
Chonchok Sumon Khenpo, of Trungpa Rimpoche's line
Dudjom Rinpoche
Nambla Janchub Dorje
Rigzing Lhachok Dorje, the 8th Choktrul Zigar Rinpoche (1938-1959)
Pumdong Key Rimpoche
Wangdor Rinpoche is a meditation master from the same generation as Chagdud Tulku Rinpoche's and in the 1960s, both rinpoches were living in Tso Pema.
Activity
He has spent more than 30 years meditating in the caves above Tso Pema (Lotus Lake), in the Himachal Pradesh region of Northern India, caves which were first used by Guru Rinpoche. In solitary retreat during the early years, Wangdor Rimpoche was eventually joined over time by more than 50 cave-dwelling yogis and yoginis.
Beginning in the 1970's, he constructed Tso Pema Orgyen Heruka Nyingmapa Gompa, a monastery near the lake, as well as a retreat center on the mountain, available to practitioners of all lineages and nationalities, projects which have taken nearly 20 years to complete. In 1977, Chagdud Khadro first met Wangdor Rinpoche, who became a first teacher[2].
Over the past two decades, Lama Wangdor has taught and given empowerments in Asia, Europe and the United States. More recently, Wangdor Rimpoche has built a monumental statue of Guru Rinpoche above the lake.
Internal Links
Notes
↑ Text based on information extracted from http://www.customjuju.com
↑

Wangdor Rinpoche advised Chagdud Khadro to accumulate Vajrasattva mantra as well as nyungne fasts.