Sangyum Kamala 桑嫞.噶瑪拉
跳至導覽
跳至搜尋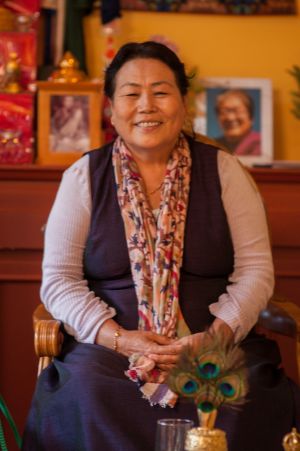 Sangyum Kamala is the spiritual consort of Chatral Sangye Dorje.
桑嫞.噶瑪拉為夏扎/賈札.桑傑.多傑(賈札仁波切)的佛母。
Birth and Family 出生與家庭
She was born in the village of Pangi, near to Manali, in the northern Indian State of Himachal Pradesh into an extraordinary Dharma lineage. Her father, Tulshuk Lingpa, was renowned as a tertön in the Nyingma lineage. In the early 1960s, Tulshuk Lingpa led over 300 followers into the high glaciers of the Himalayas in order to 'open the way' to a hidden land of immortality fabled in Tibetan tradition dating back at least to the 12th century. He journeyed in Sikkim and propagated the Buddhist teachings throughout Tibet, Nepal, Sikkim and India in both conventional and charismatic styles.
她誕生於北印度喜馬偕爾邦馬納利附近坂基村一個非凡的佛法家族裡。父親是寧瑪派的聞名伏藏師督修林巴(Tulshuk Lingpa)。在1960年代早期,督修林巴帶著300多位追隨者進入喜馬拉雅山的聳峻冰川,為了「開啟」進入西藏不朽傳說中的秘境之門,該傳說至少可溯及十二世紀之前。他曾行旅至錫金,並於西藏、尼泊爾、錫金和印度各地,以世間傳統和具有個人魅力的方式宣揚佛法。
Her father was also a student of Dudjom Rinpoche, and her grandfather was Kyechok Lingpa, a famous tertön and doctor from Golok, Serta, and was a student of Dudjom Lingpa.
她的父親也是敦珠仁波切的學生之一,而她的祖父傑秋林巴(Kyechok Lingpa)為來自色達果洛的著名伏藏師和醫師,曾是敦珠林巴的學生之一。
Her mother, Phunsok Choedon was a great practitioner and dakini who devoted her entire life to Dharma practice. When she passed away at age 83, her body remained in meditation for 7 days, and a circular rainbow appeared in the sky over her room.
她的母親彭措確諄(Phunsok Choedon),是一位畢生實修佛法的大修行者和空行母。當她於83歲圓寂時,色身安住禪定七天,並有一道環形的彩虹出現在她房間上的天空中。
Training 學習
Sangyum Kamala was raised in an environment infused with Dharma practice, the blessings of faith and the power of Secret Mantra. She met her root guru Dudjom Rinpoche together with Chatral Rinpoche in Simla at age 13. At the age of 20, she married Chatral Sangye Dorje, the greatest living Dzogchen master today. They have now been married for 50 years.
桑嫞.噶瑪拉的養育環境中充滿了佛法實修、信心加持和密咒之力。她13歲時,和賈札仁波切一起在興拉遇到她的根本上師敦珠仁波切。年值20歲時,與現世的大圓滿大師賈札.桑傑.多傑結為連理。婚後至今超過50年。
During her entire life, especially the half century spent with Chatral Rinpoche, she has received an uninterrupted stream of Dharma teachings and transmissions, and has practised mainly in the Dudjom Tersar and also in the Longchen Nyingtik traditions.
在她的一生中,特別是與賈札仁波切共度的半世紀,領受佛法教導和口傳而相續不斷,主要的修持為《敦珠新巖傳》和《龍欽寧體》宗門。
Activity 佛行事業
Sangyum Kamala has constantly supported the retreat practice of countless sublime yogins and yoginis throughout Nepal and India under the guidance of Chatral Rinpoche, and especially she has demonstrated her deep compassion by caring for the humblest of the humble in both material and spiritual ways. She carries on Chatral Rinpoche's example of freeing lives every year in Calcutta by releasing millions of fish into the Ganges and has constructed numerous stupas, prayer wheels, and other holy supports in both India and Nepal.
桑嫞.噶瑪拉在賈札仁波切的指導下,長年於尼泊爾和印度各地,護持無數卓越瑜伽士和瑜伽女的閉關實修,尤其會在物質與精神方面關懷著最不起眼的人,在在顯示她深切的悲心。她延續賈札仁波切每年於加爾各答放生的典範,將數百萬計的魚隻放生到恆河裡,並在印度和尼泊爾建造大量的佛塔、轉經輪和其他的三寶所依。
Family 家庭
Sangyum has three daughters. The oldest and youngest are both married to tulkus, and the middle is unmarried. She has two granddaughters.
桑嫞.噶瑪拉有三位女兒,長女和幼女皆與轉世祖古結為連理,次女未婚。已有兩位孫女。
External Link