Lama Pema Dorje Rinpoche
跳至導覽
跳至搜尋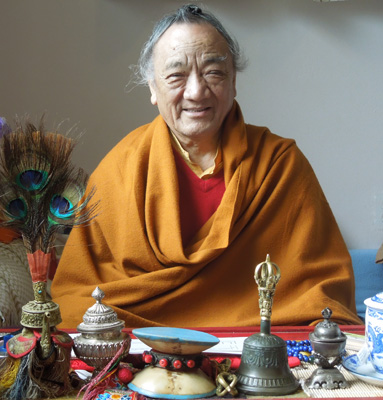 Lama Pema Dorje Rinpoche (b. 1942) was born into a yogi family named Jova, whose ancestors can be traced back to Milarepa's paternal line. His father, Kathok Rigdzin Dorje Rinpoche, was a disciple of Taklung Gangshar Rinpoche and Taklung Chodung Rinpoche. From these two teachers, Rinpoche received the entire Longchen Nyingtik teachings, as well as the Machik Labdrön chö teachings. When he was twenty, he went to Mount Kailash for an extended retreat. After that he met Golok Serta Rinpoche, a lineage holder of the first Dudjom Lingpa's treasure teachings, from whom he received the main Tröma Nakmo practice which he continues to practise today. Afterward, he became a follower of the Dudjom Tersar lineage.
喇嘛貝瑪多傑仁波切(1942-2018)出生在名為「就瓦」(Jova)的瑜珈士家族裡,其祖先可上溯至密勒日巴的父系。他的父親噶陀仁津多傑仁波切是伏藏師岡夏仁波切和伏藏師秋棟仁波切的弟子。他從這兩位上師,領受到龍欽寧體的完整教授和瑪吉拉準的斷法教授。二十歲時,他到岡底斯山進行長期閉關。之後遇到第一世敦珠林巴伏藏法的傳承持有者果洛色達仁波切,並從這位上師得到主要黑忿怒母的教授,持續修持至今。之後,則成為《敦珠新巖傳》的追隨者。
Birth, Family and Recognition
It is said that once, Lama Pema Dorje's mother dreamed of a clear and brilliant crystal pillar. At the same time her mind felt very pleasurable and her body felt great bliss. When she mentioned this dream to her husband, he said that this was a sign that they had conceived a boy. Therefore he gave the unborn infant a male name, Phagpa Dorje. Although some thought it might be a girl, he assured them it was a boy, which would be proven at childbirth. Lama Pema Dorje was accordingly born in 1942 on the banks of the Ganges River in Rishi Kesh, India. The infant was draped over by a long placenta, looking like he was wearing a meditation belt, which was considered a very auspicious sign.
據說,喇嘛貝瑪多傑的母親曾經夢到一個清晰明亮的水晶柱。她同時覺得非常愉悅,且身體感到大樂。當她告訴噶陀仁津多傑仁波切這個夢境時,他表示這是懷了男孩的徵兆。因此,他為這位尚未出世的嬰兒取了一個男生的名字—帕巴多傑。雖然有些人認為或許是懷了女孩,但他很確信是個男孩,況且出生時就可證明。貝瑪多傑仁波切於1942年初生於印度瑞詩凱斯的恆河畔。出生時身上裹覆一條長長的胎盤,像是穿戴著禪修帶一般,而這被認為是很吉祥的徵兆。
During childhood, Lama Pema Dorje always liked to be naked, disliking wearing clothes. He couldn't eat meat and also was disgusted by jerky hung in the house. Oral stories recounts that the first language spoken by the infant was Sanskrit and mantra sounds. This made him very different from other Tibetan children, and people didn't know if this was a good or bad sign. When Lama Pema Dorje was four years old, his father consulted with his guru, Golok Serta Rinpoche, who confirmed this as a good sign and said: "Your son is the reincarnation of an accomplished Indian Acharya." He then bestowed refuge vows on the boy and gave him a statue of Buddha Shakyamuni and a picture of a white umbrella, as a sign of his future activities to benefit beings. At this time he gave him the title of Acharya Tulku Pema Dorje. Later, when he was 21, Lama Pema Dorje Rinpoche was recognized by Chatral Rinpoche as the reincarnation of the Indian Mahasiddha Padampa Sangye .
喇嘛貝瑪多傑在孩童時期總喜歡赤身露體,而不喜歡穿衣服。他不能吃肉,也對掛在屋裡的肉乾感到噁心。關於他的口耳相傳故事記述道,這位嬰兒一開始說的話是梵文和咒語。這和其他西藏小孩非常不同,而人們並不曉得這個徵兆是好是壞。當喇嘛貝瑪多傑四歲時,他的父親請教自己的上師果洛色達仁波切,後者確認了這是好的徵兆,並說:「你的兒子是印度一位具成就之阿闍黎的轉世」。仁波切隨後為這個男孩授皈依戒,並給他一尊釋迦牟尼佛像,和一張象徵他未來利生事業的白傘蓋圖。當時,還給予了「阿闍黎祖古貝瑪多傑」這個頭銜。之後,21歲時,喇嘛貝瑪多傑仁波切由賈札.桑傑.多傑仁波切認證為印度大成就者帕當巴桑傑的轉世。
Training
At the age of 4, Lama Pema Dorje started his Buddhist education under the instruction of Gokok Serta Rinpoche. He received from him the Dudjom Lingpa lineage upper tradition of the Namkha Khyung Dzong teachings, including Tröma Nakmo ngöndro and the Zabsang Khandro Nyingtik ngöndro, which is the main ngöndro of this terma cycle. At this time, he also received the short Dudjom Tersar Ngöndro, the Tröma Nakmo Chö initiation and the Chö main teachings as well as Nyen Sa, Nang Jang and Phowa.
All of these teachings were from the Dudjom Töluk, the upper tradition of Dudjom Lingpa, and Lama Pema Dorje received these teachings twice. He finished the three ngöndro practices and continued to practice all of these teachings. Between the age of 12 and 14, he completed guru yoga and the Tröma Nakmo main development stage at Pema Chodzong. At age 15, he studied with Gen Rigsang Dorje Rinpoche, a senior disciple of Dudjom Rinpoche. From him, he received the Tsokye Tuktik, the Khandro Tuktik, and the Vajrakilaya Namchak Pudri and Pudri Rekpung teachings as well as Dorje Sempa teachings. All these teachings included empowerment, lung, and practice instruction.
At the age of 17, Lama Pema Dorje went to India and met for the time Dudjom Rinpoche, who accepted him as his student.
Dudjom Rinpoche gave gim many initiations and lungs, covering all the teachings of Dudjom Lingpa and all his own teachings, as well as many Nyingma teachings. These teachings included the Nyingma Kama and Nyingma Gyübum. At the age of 18 Lama Pema Dorje Rinpoche did an intensive practice with Dudjom Rinpoche during which he received mind transmission, individual instructions, and personal interviews. Lama Pema Dorje Rinpoche once said that he considered "this time spent with Dudjom Rinpoche as the best time of his life".
Afterwards, Lama Pema Dorje Rinpoche was able to learn Rigdzin Sokdrup tsa-lung and tummo practice from Kunzang Dorje Rinpoche, under the permission of Dudjom Rinpoche. This study included rare teachings. Kunzang Dorje Rinpoche also gave him teachings on the Northern Treasure Phagmo Sabga tsa lung cycle and afterwards taught Rinpoche the Jatsön Nyingpo Three Roots initiation and main completion practice, and Dzogchen Three Realm Liberation practice. He also studied with the Bhutanese mantrayana master Pema Wangchen Rinpoche, who was also a Dudjom tsalung lineage holder. From this teacher he received all the Dudjom Tersar lineage tsa lung and Tummo teachings, which included the complete five-branch practice including the Six Yogas, which covered the outer, inner, and secret teachings.
From Neten Chokling Pema Gyurme, he received the Chokling Tersar initiations and lung. From Chatral Rinpoche he received the Guhyagarbha and many other teachings.
From Jamtrul Rinpoche he received the teachings of Shantideva's Bodhicharyavatara. From Lama Sherap Dorje Rinpoche, he received many initiations, lungs, teachings and advices.
From Dilgo Khyentse Rinpoche, he received all the Nyingma Treasures, many other teachings, advices and personal instructions.
From Thinley Norbu Rinpoche, he received the Three Roots initiation as well as instruction and advice on Nang Jang and many Dzogchen teachings.
From Chagdud Tulku Rinpoche he received the Orgyen Thinley Lingpa treasures, Red Tara initiation and Kurukulle initiation. He also received Longchen Nyingtik Yeshe Lama Dzogchen teachings, as well as Chagdud Rinpoche's own pure vision mind treasure, Green Tara Nortreng (Jewel Mala) initiation, teaching and instructions.
From Penor Rinpoche he received the Nyingtik Yabshyi and Kalachakra initiations, as well as many other initiations and teachings. From Khetsun Sangpo Rinpoche, he received the Yangtig Nagpo Golden One Syllable teachings, the Trulshik Dongak Lingpa treasure, including the Three Roots and 100 Deities initiations. The culmination of these teachings included a seven-day dark retreat in total darkness.
From Trulshik Rinpoche, Lama Pema Dorje Rinpoche received the Padampa Sangye Shijé Khorsem initiation and teaching, and the Machik Labdrön Chö teachings which included the 'Opening the Door of the Sky initiation',
From his uncle Kyangchak Rinpoche, he received many oral teachings and inner teachings of Dzogchen.
From Minling Trichen Rinpoche, Dodrupchen Rinpoche, Chatral Rinpoche, Taklung Tsetrul Rinpoche and from several hidden yogis, he received many additional teachings.
In addition to extensive connections within the Nyingma lineage, Lama Pema Dorje Rinpoche also received many teachings and transmission from such teachers as Karmapa Rangjung Rigpé Dorje, H.H. the Fourteenth Dalai Lama Tenzin Gyatso, Sakya Trizin, Taklung Matrul Rinpoche and Sakya Chogyed Rinpoche.
Activity
For many years, Lama Pema Dorje Rinpoche spent most of his time practising, not teaching, except to a few fellow practitioners at the explicit request of his own teacher. He practised mainly the outer development stage of mahayoga, the Three Roots, and the inner completion cycle of anuyoga focusing on the prana, nadi and bindu. Lama Pema Dorje Rinpoche is now reocgnized by many as a main lineage holder on the practices of tummo and the five-branch yoga.
Then, on 20 March 1991, Dilgo Khyentse authorized and encouraged him to spread the Dharma. Once of the first master to invitate him to his Dharma center to teach was Chagdud Tulku Rinpoche. Then, other lamas like Kunzang Dorje Rinpoche, Kyangchak Rinpoche as well as Shiva Rinpoche (the reincarnation of his first teacher Golok Serta Rinpoche) also encouraged and authorized him to teach.
Lama Pema Dorje Rinpoche then started teaching in Tibet, America, Brazil, Taiwan and Japan.
Family
Lama Pema Dorje Rinpoche travels extensively. He has a wife, Kunsang, three sons and one daughter. His wife's father, Uthog Tsomchung Rinpoche, is a Longchen Nyingthik lineage holder. The family of her mother, Choje Zangmo, is from the Drikung Kagyü tradition.