Commentary on Valid Cognition 釋量論
跳至導覽
跳至搜尋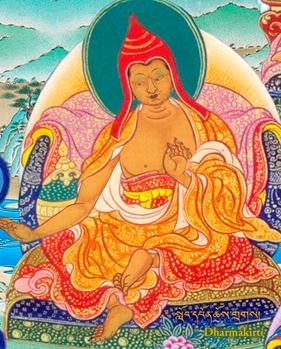 Commentary on Valid Cognition (Skt. Pramāṇavārttika; Tib. ཚད་མ་རྣམ་འགྲེལ་, Wyl. tshad ma rnam 'grel) — Dharmakirti's main treatise on pramana, the most important of his Seven Treatises on Valid Cognition.法稱論師《因明七論》中關於量理最重要的論。
Outline
It has four chapters 內容有四品:
自比量品 Inference (Tib. རང་དོན་རྗེས་སུ་དཔག་པ་, rang don rjes su dpag pa)
成量品 Valid cognition (Tib. ཚད་མ་གྲུབ་པ་, tshad ma grub pa)
現量品 Direct perception (Tib. མངོན་སུམ་, mngon sum)
他比量品 Logic (Tib. གཞན་གྱི་དོན་, gzhan gyi don)
第一為自比量品,闡述立論者本人引生比量智所必須之條件,如正因等。
第二為成量品,闡述《集量論》之歸敬頌義,成立如來為量士夫之理。
第三現量品,闡述現量之定義、差別以及似現量等。
第四為他比量品,廣釋能立因之得失,闡明使他人引生比量智的方便。

Tibetan Text
Commentaries
Indian
Dharmakirti himself wrote a long commentary on the first chapter. It is known as the Svopajñaṛtti, or Svavṛtti (Wyl. rang 'grel)
Devendrabuddhi, Pramāṇavārttikapañjikā'
Tibetan
Translations
The controversial scholar Gendün Chöpel apparently translated the text into English, but sadly this work has been lost.
Nagatomi, Masatoshi. A Study of Dharmakīrti's Pramāṇavārttika: An English Translation and Annotation of the Pramāṇavārttika Book I, PhD dissertation, Harvard University, 1957.
སེམས་ཀྱི་རང་བཞིན་འོད་གསལ་ཏེ། །
དྲི་མ་རྣམས་ནི་གློ་བུར་བ། །

The nature of mind is clear light,
Defilements are only adventitious.

བདག་ཡོད་ན་ནི་གཞན་དུ་ཤེས། །
བདག་གཞན་ཆ་ལས་འཛིན་དང་སྡང་། །
འདི་དག་དང་ནི་ཡོངས་འབྲེལ་ལས། །

ཉེས་པ་ཐམས་ཅད་འབྱུང་བར་འགྱུར། །
When there is an "I", there is a perception of other,
And from the ideas of self and other come attachment and aversion,
As a result of getting wrapped up in these,
All possible faults come into being.

དོན་དམ་དོན་བྱེད་ནུས་པ་གང༌། །
དེ་འདིར་དོན་དམ་ཡོད་པ་ཡིན། །

གཞན་ནི་ཀུན་རྫོབ་ཡོད་པ་སྟེ། །
That which can ultimately perform a function
Is here said to be ultimately existent.
All else besides has relative existence.

Further Reading
John D. Dunne, Foundations of Dharmakirti's Philosophy, Wisdom Publications, 2004
Tillemans, Tom J.F.: "Dharmakīrti's Pramāṇavārttika. An annotated translation of the fourth chapter (parārthānumāna). Volume 1 (k. 1-148)". Sitzungsberichte der philosophisch-historischen Klasse der österreichischen Akademie der Wissenschaften 675. Band. Verlag der Österreichischen Akademie der Wissenschaften (Vienna) 2000