Vajra Cutter Sutra
跳至導覽
跳至搜尋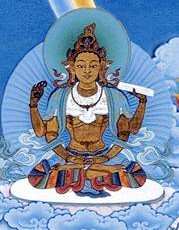 The Vajra Cutter Sutra (aka Diamond Sutra) (Skt. Vajracchedikā-prajñāpāramitā-sūtra, Wyl. 'phags pa shes rab kyi pha rol tu phyin pa rdo rje gcod pa zhes bya ba theg pa chen po'i mdo) is a popular Prajnaparamita sutra.
Famous Quotes
གང་དག་ང་ལ་གཟུགས་སུ་མཐོང༌། །
གང་དག་ང་ལ་སྒྲར་ཤེས་པ། །
ལོག་པར་སྤོང་བས་ཞུགས་པ་སྟེ། །

སྐྱེ་བོ་དེ་དག་ང་མི་མཐོང༌། །
若以色見我, Those who see my body as ordinary form,
以音聲求我, And hear my voice as ordinary sound,
是人行邪道。 Have set out upon a mistaken path.
不能見如來。 Such people do not truly see me.

釋迦摩尼佛,《能斷金剛般若波羅蜜經》

(又譯《佛說能斷金剛般若波羅蜜多經》,簡稱《金剛經》)
སྐར་མ་རབ་རིབ་མར་མེ་དང༌། །
སྒྱུ་མ་ཟིལ་པ་ཆུ་བུར་དང་། །
རྨི་ལམ་གློག་དང་སྤྲིན་ལྟ་བུ། །

འདུས་བྱས་དེ་ལྟར་བལྟ་བར་བྱ། །
鳩摩羅什譯本:「一切有為法,如夢幻泡影,如露亦如電,應作如是觀。」
玄奘大師譯本:「諸和合所為,如星翳燈幻,露泡夢電雲,應作如是觀。」

Like a star, hallucination, candle,
Magical illusion, dewdrop, bubble,
Dream, lightning or a cloud—
Know all compounded phenomena to be like this.

釋迦摩尼佛,《能斷金剛般若波羅蜜經》

(又譯《佛說能斷金剛般若波羅蜜多經》,簡稱《金剛經》)
Early Translations
Chinese translation, ca. AD 400 by Kumārajīva
Chinese translation in the 7th century by Xuanzang
Tibetan translation in the 9th century by Śīlendrabodhi and Yeshé Dé
English Translations
Gelong Thubten Tsultrim (George Churinoff), The Exalted Mahayana Sutra on the Wisdom Gone Beyond Called the Vajra Cutter (based on the Tibetan Lhasa Zhol printing), FPMT, 2002 Available online here
Paul Harrison, 'Vajracchedikā Prajñāpāramitā: A New English Translation of the Sanskrit Text Based on Two Manuscripts from Greater Gandhāra', contained in Jens Braarvig, Paul Harrison, Jens-Uwe Hartmann, Kazunobu Matsuda & Lore Sander, eds., Buddhist Manuscripts in the Schøyen Collection, Hermes (Oslo 2006)
Gregory Schopen, 'The Manuscript of the Vajracchedika Found at Gilgit: An Annotated Transcription and Translation' in Luis O. Gómez and Jonathan A. Silk (ed.s), Studies in the Literature of the Great Vehicle: Three Mahāyāna Buddhist Texts
Notes
Further Reading
Thich Nhat Hanh, The Diamond that Cuts Through Illusion: Commentaries on the Prajñaparamita Diamond Sutra (Berkeley: Parallax Press, 1992)
Edward Conze, The Prajñāpāramitā Literature (1960)
External Links