Uttaratantra Shastra 究竟一乘寶性論 / 大乘無上續論
跳至導覽
跳至搜尋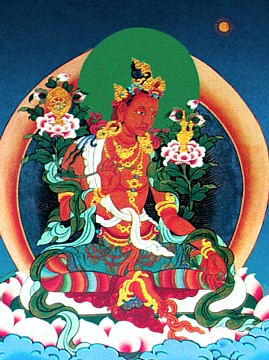 Uttaratantra Shastra (Skt. Mahāyānottaratantra Śāstra; Tib. ཐེག་པ་ཆེན་པོ་རྒྱུད་བླ་མའི་བསྟན་བཆོས་, Gyü Lama; Wyl. theg pa chen po rgyud bla ma'i bstan bcos), Treatise on the Sublime Continuum or the Ratnagotravibhaga. One of the Five Treatises of Maitreya, a commentary on the teachings of the third turning of the wheel of Dharma explaining buddha nature. It was first translated into Tibetan by Ngok Loden Sherab and the Kashmiri pandita Sajjana. It is included among the so-called "Thirteen great texts", which form the core of the curriculum in most shedras and on which Khenpo Shenga provided commentaries.
Outline
The text has seven vajra points. These points come within the five chapters:
The Tathagatagarbha

Awakening/Enlightenment (bodhi)

Enlightened Qualities

The Activity of the Tathagatas

Benefits of the Text
Tibetan Text
དམ་པའི་དོན་དུ་འགྲོ་བ་ཡི། །

སྐྱབས་ནི་སངས་རྒྱས་ཉག་གཅིག་ཡིན། །
ཐུབ་པ་ཆོས་ཀྱི་སྐུ་ཅན་ཕྱིར། །


ཚོགས་ཀྱང་དེ་ཡི་མཐར་ཐུག་ཕྱིར། །

On an ultimate level
The only refuge is the Buddha.
The Muni embodies the Dharma,
And is thus the culmination of the sangha.





མ་དག་མ་དག་དག་པ་དང༌། །

ཤིན་ཏུ་རྣམ་དག་གོ་རིམ་བཞིན། །
སེམས་ཅན་བྱང་ཆུབ་སེམས་དཔའ་དང༌། །


དེ་བཞིན་གཤེགས་པ་ཞེས་བརྗོད་དོ། །

According to the phases of impure,
Partially pure and completely pure,
We speak of sentient beings, bodhisattvas
And the thus-gone buddhas.





མི་གཙང་བ་ལ་དྲི་ཞིམ་མེད་བཞིན་འགྲོ་ལྔ་དག་ན་བདེ་བ་མེད། །

[1]

Just as there can be no pleasant fragrance in a cesspit,
There is no joy among the five classes of beings.





སེར་སྣ་ལ་སོགས་རྣམ་རྟོག་གང༌། །

དེ་ནི་ཉོན་མོངས་སྒྲིབ་པར་འདོད། །
འཁོར་གསུམ་རྣམ་པར་རྟོག་པ་གང༌། །


དེ་ནི་ཤེས་བྱའི་སྒྲིབ་པར་འདོད། །

Any thought such as miserliness and so on
Is held to be an afflictive obscuration.
Any thought of 'subject', 'object' and 'action'
Is held to be a cognitive obscuration.





རྫོགས་སངས་སྐུ་ནི་འཕྲོ་ཕྱིར་དང༌། །

དེ་བཞིན་ཉིད་དབྱེར་མེད་ཕྱིར་དང༌། །
རིགས་ཡོད་ཕྱིར་ན་ལུས་ཅན་ཀུན། །


རྟག་ཏུ་སངས་རྒྱས་སྙིང་པོ་ཅན། །

Because the perfect buddhas's kaya is all-pervading,
Because reality is undifferentiated,
And because they possess the potential,
Beings always have the buddha nature.


Maitreya, Sublime Continuum, I, 27




རྣམ་དབྱེ་བཅས་པའི་མཚན་ཉིད་ཅན། །

གློ་བུར་དག་གིས་ཁམས་སྟོང་གི །
རྣམ་དབྱེ་མེད་པའི་མཚན་ཉིད་ཅན། །


བླ་མེད་ཆོས་ཀྱིས་སྟོང་མ་ཡིན། །

The disposition is empty of the adventitious stains,
Which are characterized by their total separateness.
But it is not empty of the unsurpassed qualities,
Which have the character of total inseparability.


Maitreya, Sublime Continuum, I, 155




ནད་ནི་ཤེས་བྱ་ནད་ཀྱི་རྒྱུ་ནི་སྤང་བྱ་ལ། །

བདེ་གནས་ཐོབ་བྱ་སྨན་ནི་བསྟེན་པར་བྱ་བ་ལྟར། །
སྡུག་བསྔལ་རྒྱུ་དང་དེ་འགོག་པ་དང་དེ་བཞིན་ལམ། །


ཤེས་བྱ་སྤང་བྱ་རིག་པར་བྱ་ཞིང་བསྟེན་པར་བྱ། །

Illness must be understood, its causes eliminated,
Wellbeing must be attained, and medicine taken.
Likewise, suffering, its causes, their cessation and the path
Must in turn be understood, eliminated, realized and relied upon.


Maitreya, Sublime Continuum, IV, 55



Commentaries
In Sanskrit
Asanga, Ratnagotravibhāgavyākhyā
In Tibetan
Translations
In English
Buddha-Nature, Mahayana Uttaratantra Shastra by Arya Maitreya with commentary by Dzongsar Jamyang Khyentse Rinpoche, edited by Alex Trisoglio, Khyentse Foundation, 2007. A free copy can be requested online at siddharthasintent.org.
Buddha Nature (with Jamgön Kongtrul's commentary) translated by Rosemarie Fuchs, Snow Lion, New York 2000
The Changeless Nature, translated by Ken and Katia Holmes, Karma Kagyu Trust, Newcastle 1985
Uttaratantra-shastra (rgyud bla ma), Maitreya – Asanga with commentary by Jamgön Mipham, Padmakara translation group, forthcoming
In French
Traité de la Continuité ultime du Grand Véhicule de Maitreya, avec le commentaire de Jamgœun Kongtrul Rimpoché, L'Inéluctable Rugissement du lion (trad. Etienne Loyon); including commentary by Khenpo Tsultrim Gyamtso Rinpoche. All accessible on line here!
Further Reading
Klaus-Dieter Mathes, A Direct Path to the Buddha Within: Go Lotsawa's Mahamudra Interpretation of the Ratnagotravibhāga, Wisdom Publications, 2008
S.K. Hookham, Buddha Within: Tathagatagarbha Doctrine According to the Shentong Interpretation of the Ratnagotravibhaga , SUNY Press, 1992
Thrangu Rinpoche, The Uttara Tantra: A Treatise on Buddha Nature, translated by Ken and Katia Holmes, edited by Clark Johnson, Delhi: Sri Satguru Publications, 2001
J. Takasaki, A Study of the Ratnagotravibhaga, Rome, Is. M.E.O., 1966.
Teachings on the Uttaratantra Shastra Given to the Rigpa Sangha
References
↑ This quote is often paraphrased in two lines, e.g.
འགྲོ་ལྔ་དག་ལ་བདེ་བ་མེད། །
མི་གཙང་ཁང་པར་དྲི་ཞིམ་མེད། །
External Links