Dzigar Kongtrul Rinpoche 吉噶.康楚仁波切
跳至導覽
跳至搜尋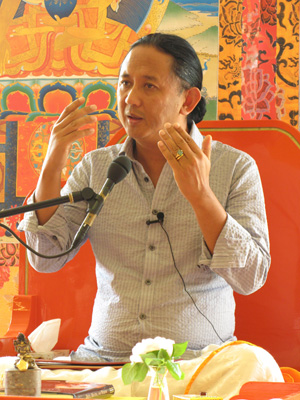 Dzigar Kongtrul Rinpoche (b.1964) — the present Dzigar Kongtrul, Jigme Namgyel (འཛི་སྒར་ཀོང་སྤྲུལ་འཇིགས་མེད་རྣམ་རྒྱལ་, Wyl. 'dzi sgar kong sprul 'jigs med rnam rgyal), was born in Northern India, shortly before the Tibetan community settlement at Bir was established by his father, the third Neten Chokling Rinpoche. When Rinpoche was just nine years old, his father passed away. Soon after this His Holiness Dilgo Khyentse Rinpoche recognized him as an emanation of Jamgön Kongtrul the Great and His Holiness the 16th Karmapa confirmed this. He was soon enthroned at Chokling Gompa in Bir.
吉噶.康楚仁波切(Dzigar Kongtrul Rinpoche,1964-),名為吉美.南嘉,出生於北印度,時值其父親第三世乃旦.秋林仁波切(Neten Chokling Rinpoche)於比爾成立西藏屯墾區之前不久。仁波切年僅九歲時,父親便已圓寂。未久,法王頂果.欽哲仁波切認證他為偉大的蔣貢.康楚(Jamgön Kongtrul,又譯為蔣貢.工珠)之化身,第十六世嘉華.噶瑪巴(16th Karmapa,大寶法王)也予以確認。不久之後,他即在比爾的秋林寺(Chokling Gompa)完成陞座儀式。
Dzigar Kongtrul Rinpoche moved to the United States in 1989 with his family and began a five-year tenure as a professor of Buddhist philosophy at Naropa University (then Institute) in 1990. Not long after arriving in the United States, he founded Mangala Shri Bhuti, an organization dedicated to furthering the practice of the Longchen Nyingtik lineage. He established a mountain retreat centre, Longchen Jigme Samten Ling, in southern Colorado, where he spends much of his time in retreat and guides students in long-term retreat practice.
吉噶.康楚仁波切於1989年偕同家人前往美國,並自1990年起,連續五年擔任那若巴大學(Naropa University)(後稱為那若巴學院Institute)的佛教義理教授。抵達美國之後不久,他創立了曼迦拉室利布提(Mangala Shri Bhuti),該組織致力於龍欽心髓傳承修持的廣傳。他在科羅拉多州南部成立一個名為「龍欽吉美桑天林」(Longchen Jigme Samten Ling)的山林閉關中心,不僅自己於該處長時投入閉關,同時也指導學生進行長期的閉關修持。
Kongtrul Rinpoche's root teacher was Dilgo Khyentsé Rinpoche, and he also studied extensively with Tulku Urgyen Rinpoche, Nyoshul Khen Rinpoche and the great scholar-yogin Khenpo Rinchen. His students include Pema Chödrön, the best-selling buddhist author, and his wife, Elizabeth Mattis-Namgyel. He is also an avid painter in the abstract expressionist tradition.
康楚仁波切的根本上師為頂果.欽哲仁波切(Dilgo Khyentsé Rinpoche,1910-1991);他同時也在祖古.烏金仁波切(Tulku Urgyen Rinpoche,1920-1996)、紐舒.堪仁波切(Nyoshul Khen Rinpoche,1932-1999)與博學的瑜伽士仁欽堪布(the great scholar-yogin Khenpo Rinchen)座下大量學習。他的學生包括作品極為暢銷的佛教作家佩瑪.丘卓(Pema Chödrön)和他內人伊麗莎白.馬蒂斯.南嘉(Elizabeth Mattis-Namgyel)。他同時也是一位熱愛抽象表現主義的畫家。
臉書連結:吉噶康楚仁波切(Dzigar Kongtrul Rinpoche)
Publications
It's Up to You: The Practice of Self-Reflection on the Buddhist Path (Boston: Shambhala Publications, 2005).
Sogyal Rinpoche said of this book:
"An enthralling and practical book that speaks to us all with an exceptional clarity about confusion, uncertainty, and fear, about fearlessness and courage, and about awareness, joy, sanity, and freedom. A book which I cannot recommend highly enough."
Light Comes Through: Buddhist Teachings on Awakening to our Natural Intelligence (Boston: Shambhala Publications, 2008)
Uncommon Happiness, The Path of the Compassionate Warrior (Boudhanath, Hong Kong & Esby: Rangjung Yeshe Publications, 2009)
Teachings Given to the Rigpa Sangha
The Thirty-Seven Practices of a Bodhisattva, Rigpa London, 20-22 June 1997
Shamatha and Vipashyana, Rigpa Amsterdam, 23-25 May 1997
Seven Points of Mind Training based on Changchub Shunglam, the commentary by Jamgön Kongtrul Lodrö Tayé, Lerab Ling, 23-27 July 2006
Staircase to Akanishtha by Jikmé Lingpa, Lerab Ling, 21-25 August 2007
Heart Treasure of the Saints by Patrul Rinpoche, Lerab Ling, 16-19 August 2008
Commentary on Bodhichitta by Nagarjuna, Lerab Ling, 12-15 August 2009
The Heart Sutra, using a commentary by Taranatha, Lerab Ling, 8-10 June 2010
The Wheel Blade of Mind Transformation by Dharmarakshita, Lerab Ling, 12-14 July 2011
The Intermediate Stages of Meditation by Kamalashila, Lerab Ling, 21-23 July 2012
Further Reading
View: The Rigpa Journal, July 2010, 'Very Little Needs and Much Contentment'—A Teaching for Troubled Times, and 'A Friend and Guide to the Sangha'
Internal Links
External Links
Rigpa Wiki
""Decode Wiki"" hereby provides the Chinese translation of certain contents from ""Rigpa Wiki"" with permission for all readers and free of charge, however, does not serve as its official translation. Suggestions and corrections are highly appreciated.
「解密維基」經「本覺維基」同意將其網站內容進行中譯並提供讀者免費參照,但非該網之官方中譯。敬請各方不吝指教。