Rahor Khenpo Tupten 惹霍堪布圖滇
跳至導覽
跳至搜尋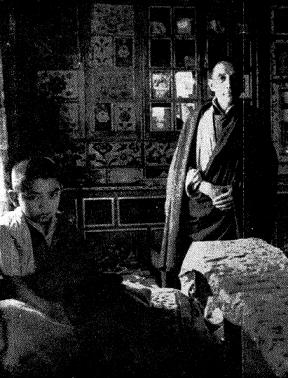 Rahor Khenpo Tupten (Wyl. ra hor mkhan po thub bstan) — the tutor of Dzogchen Rinpoche. He was from Rahor, a branch of Dzogchen monastery founded by the Third Dzogchen Rinpoche in Gyalrong near Dergé. He was a student of Pöpa Tulku. He escaped from Tibet together with his former classmate Khenpo Dazer and went together with him to Sikkim via Bhutan.
惹霍堪布圖滇(Rahor Khenpo Tupten),佐欽仁波切(Dzogchen Rinpoche)的親教師,來自惹霍寺(Rahor)——這是一所隸屬佐欽寺的支院,由第三世佐欽仁波切(Dzogchen Rinpoche)在德格附近的嘉絨(Gyalrong)創立。惹霍堪布圖滇是波帕祖古(Pöpa Tulku)的學生,他與昔日同窗堪布達瑟(Khenpo Dazer)一起逃離西藏,再從不丹到錫金。
In 1975, Khenpo Tupten taught on Buddhist practice and meditation in London, with Sogyal Rinpoche translating. He stayed for three months at Chatsworth Rd, the first centre of what would become the Rigpa sangha.
1975年,堪布圖滇在倫敦教導佛教修持和禪觀,當時由索甲仁波切(Sogyal Rinpoche)負責翻譯。此外,他曾在位於佳斯沃福路(Chatsworth Rd)的第一個中心駐錫三個月,該中心後來成為了本覺僧團(Rigpa sangha)。
Further Reading
Marilyn Silverstone, 'Five Nyingmapa Lamas in Sikkim', Kailash: A Journal of Himalayan Studies, 1973, vol. 1.1
Rigpa Wiki
""Decode Wiki"" hereby provides the Chinese translation of certain contents from ""Rigpa Wiki"" with permission for all readers and free of charge, however, does not serve as its official translation. Suggestions and corrections are highly appreciated.
「解密維基」經「本覺維基」同意將其網站內容進行中譯並提供讀者免費參照,但非該網之官方中譯。敬請各方不吝指教。