Lama Tashi Deleg /喇嘛札西德樂/
跳至導覽
跳至搜尋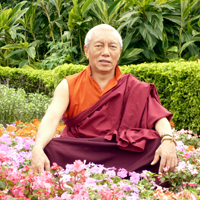 Lama Tashi Deleg is contemporarary nyingma teacher and scholar, holder of the Dudjom Tersar and Longchen Nyingtik lineages.
Birth & Family
Lama Tashi Deleg was born in 1954 to Tsultrim and Drolma Jinghir in Dunchhu, Tibet near Mount Kailash. Born on the second day of the Tibetan New Year, he was named Tashi Deleg by Dunchu Tulku Rinpoche.
Training
When many Tibetan families fled Tibet in 1960, his family sought refuge in Sandeo, India. In 1970, Lama Tashi Deleg enrolled in The Varanasi Higher Tibetan Institute. Completing nine years of Tibetan Buddhist studies, he graduated with honor as Acharya in 1979.
During school breaks from 1965 to 1979, he studied Tibetan Buddhist ritual and Vajrayana practices at Dudjom Rinpoche's monastery Dudul Rabten Ling in Orissa.
Lama Tashi Deleg received kama and terma teachings, empowerments and oral transmissions from many great nyingma masters such as:
He received all the Dudjom Tersar transmission from Dudjom Rinpoche, and the Longchen Nyingtik from Dodrupchen Rinpoche, and many other transmissions from the Dalai Lama, the Sixteenth Karmapa, Sakya Chogye Trichen Rinpoche, Kalu Rinpoche, and Tulku Urgyen Rinpoche.
Activity
In 1980, Lama Tashi Deleg served as secretary to Dudjom Rinpoche. Then, he held a teaching position at Ka-Nying Sherub Ling in Nepal for three years. In 1985, he co-established Samye Monastery in Kathmandu, Nepal, serving as Vice-Principal for the next eight years.
In 2000, Lama Tashi Deleg was invited to the Vajrayana Foundation–Pema Osel Ling in Santa Cruz, California where he teaches Buddhadharma, Tibetan Buddhist ritual arts, Tibetan language and calligraphy. He has now been serving the Foundation for more than nine years.