Dokhampa Shedrub Nyima 多康巴‧熙竺年瑪(第九世康祖法王)
跳至導覽
跳至搜尋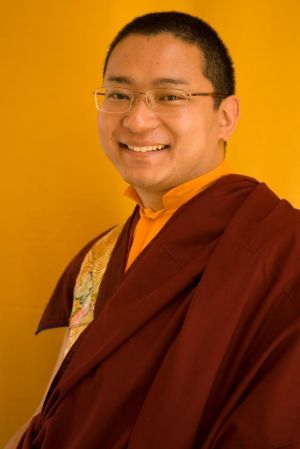 Gyalwa Dokhampa Shedrub Nyima, the Ninth Khamtrul Rinpoche (b. 1982)[1] was born in Assam, India, and continues the illustrious tradition of his enlightened predecessors—the Khamtrul Rinpoches of the Drukpa Kagyü tradition of Tibetan Buddhism. Recognized by His Holiness the 16th Karmapa and Kyabgön Dilgo Khyentse Rinpoche, he is the supreme head of Khampagar Monastery in Kham, overseeing more than 200 monasteries and nunneries in Eastern Tibet as well as its present seat in Tashi Jong, India, where the tradition of tokdens, or realized yogis, is continued to this day.
第九世康祖仁波切嘉華多康巴‧熙竺年瑪(生年1982)[註一]生於印度阿薩姆邦,繼續發揚藏傳佛教竹巴噶舉歷代具證量之康祖仁波切的傑出傳承。仁波切是由第十六世大寶法王與怙主頂果欽哲仁波切認證,為康區康巴噶寺之無上法座,指導東藏超過兩百間寺院與尼院,以及現今駐錫之印度札西炯寺院與尼院—於該處,瑜伽士長老(tokdens)的傳承仍延續至今。
He received intensive training and the complete transmission of the Drukpa Kagyü lineage from his main teachers H.E. Dorzong Rinpoche and Kyabgön Adeu Rinpoche, and many teachings and empowerments from Kyabgön Dilgo Khyentse Rinpoche and Kyabgön Taklung Tsetrul Rinpoche.
他在尊貴的德頌仁波切與怙主阿帝仁波切這兩位主要上師的指導下,領受密集訓練和竹巴噶舉的完整法傳,且於怙主頂果欽哲仁波切與怙主達隆澤珠仁波切足下,領受許多教導與灌頂。
Another tulku of the 8th Khamtrul Rinpoche, named Khamtrul Rinpoche Jigme Pema Nyinjadh (b.1981), was recognized by His Holiness the Dalai Lama, His Holiness the Gyalwang Drukpa and the First Thuksé Rinpoche. He currently resides in Bhutan.
第八世康祖仁波切的另一位轉世為康祖仁波切吉美貝瑪寧佳(1981生),由尊者達賴喇嘛、嘉旺竹巴法王與第一世圖瑟仁波切所認證。現居於不丹。
臉書連結:康祖法王(多康巴‧熙竺年瑪)(Dokhampa Shedrub Nyima)
Visits to Rigpa Centres
On these visits, Khamtrul Rinpoche was accompanied by Tsoknyi Rinpoche, Tokden Chökyi Lodrö and Tokden Tutop Nyima.
References
↑

Online references are contradictory (either 1980 or 1982).
Internal Links
External Links