Tsoknyi Rinpoche 措尼仁波切
跳至導覽
跳至搜尋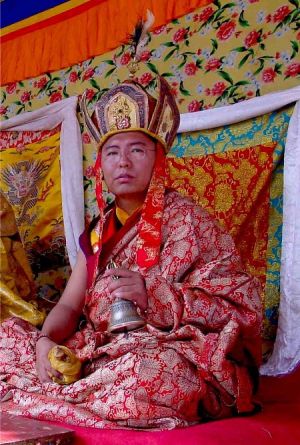 Tsoknyi Rinpoche (Wyl. tshogs gnyis rin po che) or Ngawang Tsoknyi Gyatso (b. 13 March 1966) – the third Tsoknyi Rinpoche was recognized by His Holiness the sixteenth Gyalwang Karmapa as the reincarnation of Drubwang Tsoknyi Rinpoche. He is a renowned master of the Drukpa Kagyü and Nyingma traditions and the lineage holder of the Ratna Lingpa Lineage and the Tsoknyi Lineage. Since 1991, Tsoknyi Rinpoche has been teaching in the Dzogchen tradition, communicating from the ancient teachings into the modern mind, and is one of those rare teachers whose lighthearted yet illuminating style appeals to both beginners and advanced practitioners. His main teachers were Khamtrul Rinpoche Dongyü Nyima, his father Tulku Urgyen Rinpoche, Dilgo Khyentse Rinpoche, Nyoshul Khen Rinpoche and Adeu Rinpoche.
第三世措尼仁波切(Tsoknyi Rinpoche),拿旺措尼嘉措(Ngawang Tsoknyi Gyatso,1966年3月13日~),由第十六世噶瑪巴法王認證為竹旺措尼仁波切(Drubwang Tsoknyi Rinpoche)的轉世。竹旺措尼仁波切是竹巴噶舉和寧瑪傳承的知名上師,也是惹那林巴(Ratna Lingpa Lineage)和措尼(Tsoknyi Lineage)法脈傳承的持有者。自1991年以來,措尼仁波切一直致力於傳揚大圓滿傳統,以輕鬆愉快卻又不失真義的傳法風格,將古老教法灌注於現代人的心靈,是少數能同時吸引入門初修與進階老參的上師之一。其主要上師為康祖仁波切董玉尼瑪(Khamtrul Rinpoche Dongyu Nyima)、父親祖古烏金仁波切(Tulku Urgyen Rinpoche)、頂果欽哲仁波切(Dilgo Khyentse Rinpoche)、紐修堪仁波切(Nyoshul Khen Rinpoche)和阿度仁波切(Adeu Rinpoche,阿帝仁波切)。
Publications
Teachings Given to the Rigpa Sangha/Visits
Internal Links
External Links
Rigpa Wiki
""Decode Wiki"" hereby provides the Chinese translation of certain contents from ""Rigpa Wiki"" with permission for all readers and free of charge, however, does not serve as its official translation. Suggestions and corrections are highly appreciated.
「解密維基」經「本覺維基」同意將其網站內容進行中譯並提供讀者免費參照,但非該網之官方中譯。敬請各方不吝指教。