Distinguishing the Middle from Extremes 辯中邊論頌
跳至導覽
跳至搜尋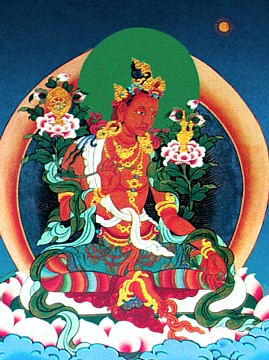 Distinguishing the Middle from Extremes (Skt. Madhyāntavibhāga; Tib. དབུས་མཐའ་རྣམ་འབྱེད་, Wyl. dbus mtha' rnam 'byed) — one of the five treatises of Maitreya. It is included among the so-called "Thirteen great texts", which form the core of the curriculum in most shedras and on which Khenpo Shenga provided commentaries.
Outline
The text has five chapters:
Characteristics (Tib. མཚན་ཉིད་, mtshan nyid)
Obscurations (Tib. སྒྲིབ་པ་, sgrib pa)
Reality (Tib. དེ་ཁོ་ན་, de kho na)
Cultivating antidotes (Tib. གཉེན་པོ་བསྒོམ་པ་, gnyen po bsgom pa)
The unsurpassed vehicle (Tib. ཐེག་པ་བླ་ན་མེད་པ་, theg pa bla na med pa)
Tibetan Text
Translations
Middle Beyond Extremes: Maitreya's Madhyantavibhanga with Commentaries by Khenpo Shenga and Ju Mipham, Dharmachakra Translation Committee, Snow Lion, 2007
ཡི་གེ་འབྲི་མཆོད་སྦྱིན་པ་དང༌། །
ཉན་དང་ཀློག་དང་ལེན་པ་དང༌། །
འཆད་དང་ཁ་དོན་བྱེད་པ་དང༌། །
དེ་སེམས་པ་དང་བསྒོམ་པའོ། །
སྤྱོད་པ་དེ་བཅུའི་བདག་ཉིད་ནི། །

བསོད་ནམས་ཕུང་པོ་དཔག་ཏུ་མེད། །
Copying texts, making offerings, charity,
Study, reading, memorizing,
Explaining, reciting aloud,
Contemplating and meditating—
These ten activities
Bring merit beyond measure.

Maitreya, Distinguishing the Middle from Extremes, chapter 5
Commentaries
Vasubandhu, Commentary on Distinguishing the Middle from Extremes (Madhyāntavibhāga-bhāṣya)
Sthiramati, Madhyāntavibhāga-ṭikā
External Links