「Tulku Pegyal Rinpoche 祖古貝嘉仁波切」修訂間的差異
跳至導覽
跳至搜尋
小

行 2:
行 2:
 
 
 

'''Tulku Pegyal Rinpoche''' (1931-2001) — Tulku Pema Chökyi Gyaltsen Rinpoche was born in 1931 in [[eastern Tibet]]. The great [[Fifth Dzogchen Rinpoche]] had told Tulku Pegyal's father, a respected scholar at [[Dzogchen Monastery]],that his son would be the incarnation of [[Pema Dechen Lingpa]], himself the incarnation of Lochen [[Vairotsana]], a renowned [[tertön]] who discovered many of [[Padmasambhava]]'s hidden treasures.

 

'''Tulku Pegyal Rinpoche''' (1931-2001) — Tulku Pema Chökyi Gyaltsen Rinpoche was born in 1931 in [[eastern Tibet]]. The great [[Fifth Dzogchen Rinpoche]] had told Tulku Pegyal's father, a respected scholar at [[Dzogchen Monastery]],that his son would be the incarnation of [[Pema Dechen Lingpa]], himself the incarnation of Lochen [[Vairotsana]], a renowned [[tertön]] who discovered many of [[Padmasambhava]]'s hidden treasures.

 
+
 
+
 
 
 

At the age of five, the Fourteenth Karma Songrap Rinpoche, Thupten Gyaltsen, became his master and initiated Tulku Pegyal as a monk. His education was directed by his master and by his father, and he proved to be a quick and highly intelligent student.  

 

At the age of five, the Fourteenth Karma Songrap Rinpoche, Thupten Gyaltsen, became his master and initiated Tulku Pegyal as a monk. His education was directed by his master and by his father, and he proved to be a quick and highly intelligent student.  

 
+
 
+
 
 
 

In 1947, after his father's death, Tulku Pegyal travelled to Dzogchen Monastery in eastern Tibet. He remained there for nearly ten years, receiving teachings from many masters, including the [[Sixth Dzogchen Rinpoche]], returning to his birth place in 1957. Six years later he was arrested by the Chinese and imprisoned for fifteen years. When he was finally released in 1979, he returned to Dzogchen monastery and assumed responsibility for supervising the restoration of the ruined monasteries.   

 

In 1947, after his father's death, Tulku Pegyal travelled to Dzogchen Monastery in eastern Tibet. He remained there for nearly ten years, receiving teachings from many masters, including the [[Sixth Dzogchen Rinpoche]], returning to his birth place in 1957. Six years later he was arrested by the Chinese and imprisoned for fifteen years. When he was finally released in 1979, he returned to Dzogchen monastery and assumed responsibility for supervising the restoration of the ruined monasteries.   

 
+
 
+
 
 
 

In 1985, the Seventh [[Dzogchen Rinpoche]], Jikmé Losal Wangpo, urged Tulku Pegyal to come to India to help him look after Dzogchen Monastery. Tulku Pegyal agreed and spent most of the next ten years in India, with a three year period in Sikkim. In 1995 he moved to Nepal and established a branch of Dzogchen Monastery in [[Swayambhunath]], named Gön Thubten Do Ngag Shedrub Dargye Ling.

 

In 1985, the Seventh [[Dzogchen Rinpoche]], Jikmé Losal Wangpo, urged Tulku Pegyal to come to India to help him look after Dzogchen Monastery. Tulku Pegyal agreed and spent most of the next ten years in India, with a three year period in Sikkim. In 1995 he moved to Nepal and established a branch of Dzogchen Monastery in [[Swayambhunath]], named Gön Thubten Do Ngag Shedrub Dargye Ling.

 
+
 
+
 
 
 

Tulku Pegyal Rinpoche passed away in November 2001. For a number of years, was the principal master to whom [[About Rigpa|Rigpa]] prayer requests were sent. His monastery (the Dzogchen Branch Monastery in Nepal) continues to devote three hours of prayer ceremonies each day for the sick and deceased, just as Tulku Pegyal Rinpoche had established.

 

Tulku Pegyal Rinpoche passed away in November 2001. For a number of years, was the principal master to whom [[About Rigpa|Rigpa]] prayer requests were sent. His monastery (the Dzogchen Branch Monastery in Nepal) continues to devote three hours of prayer ceremonies each day for the sick and deceased, just as Tulku Pegyal Rinpoche had established.

 
+
 
+
 
 
 

==[[Empowerment]]s Given to the Rigpa Sangha==

 

==[[Empowerment]]s Given to the Rigpa Sangha==

行 23:
行 33:
 

*[[Amitabha]] for [[phowa]] practice, 29 or 30 January 2000, Zurich

 

*[[Amitabha]] for [[phowa]] practice, 29 or 30 January 2000, Zurich

 
 
 
+
 
+
 
+
 
+
 
+
 
+
 
+
 

[[Category:Contemporary Teachers]]

 

[[Category:Contemporary Teachers]]

 

[[Category:Nyingma Teachers]]

 

[[Category:Nyingma Teachers]]
---
於 2016年8月8日 (一) 00:16 的修訂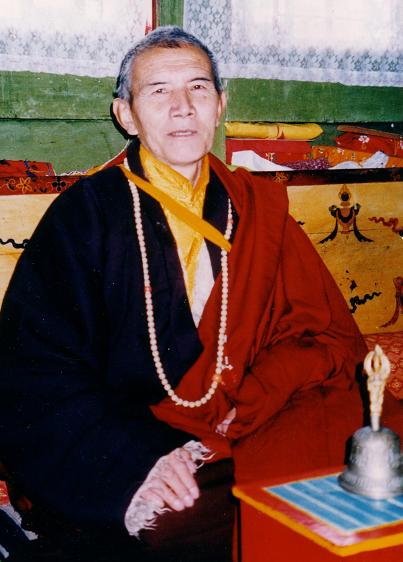 Tulku Pegyal Rinpoche (1931-2001) — Tulku Pema Chökyi Gyaltsen Rinpoche was born in 1931 in eastern Tibet. The great Fifth Dzogchen Rinpoche had told Tulku Pegyal's father, a respected scholar at Dzogchen Monastery,that his son would be the incarnation of Pema Dechen Lingpa, himself the incarnation of Lochen Vairotsana, a renowned tertön who discovered many of Padmasambhava's hidden treasures.
祖古貝嘉仁波切(1931年至2001年)​​—祖古貝瑪確吉嘉辰仁波切於西元1931年出生於西藏的東部。偉大的第五世佐欽仁波切曾經告訴祖古貝嘉在佐欽寺受人敬重的學者父親,他的兒子將會是發掘許多蓮花生大士伏藏之取藏師貝瑪德千林巴的轉世,而貝瑪德千林巴則是大譯師毘盧渣那的轉世。
At the age of five, the Fourteenth Karma Songrap Rinpoche, Thupten Gyaltsen, became his master and initiated Tulku Pegyal as a monk. His education was directed by his master and by his father, and he proved to be a quick and highly intelligent student.
五歲時,第十四世噶瑪松繞仁波切圖登嘉辰,成為他的上師並為他剃度。他受教於上師與父親,並證明了自己是一位學習迅速且智識高廣的學生。
In 1947, after his father's death, Tulku Pegyal travelled to Dzogchen Monastery in eastern Tibet. He remained there for nearly ten years, receiving teachings from many masters, including the Sixth Dzogchen Rinpoche, returning to his birth place in 1957. Six years later he was arrested by the Chinese and imprisoned for fifteen years. When he was finally released in 1979, he returned to Dzogchen monastery and assumed responsibility for supervising the restoration of the ruined monasteries.
1947年,在他的父親往生之後,祖古貝嘉前往西藏東方的佐欽寺。他在那裡停留了將近十年,從第六世佐欽仁波切等諸多上師處領受教法,並在1957年回到他的出生地。六年後,他被中國人民政府逮捕入獄十五年。當他終於在1979年被釋放出獄時,他回到了佐欽寺,擔負著監督受損寺院重建的重責大任。
In 1985, the Seventh Dzogchen Rinpoche, Jikmé Losal Wangpo, urged Tulku Pegyal to come to India to help him look after Dzogchen Monastery. Tulku Pegyal agreed and spent most of the next ten years in India, with a three year period in Sikkim. In 1995 he moved to Nepal and established a branch of Dzogchen Monastery in Swayambhunath, named Gön Thubten Do Ngag Shedrub Dargye Ling.
1985年,第七世佐欽仁波切吉美洛色旺波,敦促他到印度協助照顧佐欽寺。祖古貝嘉同意了,且於接下來的十年中,大部分的時間都留在印度,而有三年的期間待在錫金。1995年,仁波切搬到了尼泊爾,在思瓦揚布達(Swayambhunath)建立了佐欽寺的分支,名為袞圖登多那謝竹達傑林(Gön Thubten Do Ngag Shedrub Dargye Ling)。
Tulku Pegyal Rinpoche passed away in November 2001. For a number of years, was the principal master to whom Rigpa prayer requests were sent. His monastery (the Dzogchen Branch Monastery in Nepal) continues to devote three hours of prayer ceremonies each day for the sick and deceased, just as Tulku Pegyal Rinpoche had established.
祖古貝嘉仁波切圓寂於2001年的11月。多年以來,他都是本覺會各種祈願所會請示的主要上師。而他的寺院(佐欽寺在尼泊爾的分支),現今仍然每天持續為病者與亡者祈願修法三個小時,一如當初仁波切建寺時的那樣。
Empowerments Given to the Rigpa Sangha
Rigpa Wiki
""Decode Wiki"" hereby provides the Chinese translation of certain contents from ""Rigpa Wiki"" with permission for all readers and free of charge, however, does not serve as its official translation. Suggestions and corrections are highly appreciated.
「解密維基」經「本覺維基」同意將其網站內容進行中譯並提供讀者免費參照,但非該網之官方中譯。敬請各方不吝指教。