Jetsün Kushok Chimey Luding 傑尊姑秀企美祿頂
跳至導覽
跳至搜尋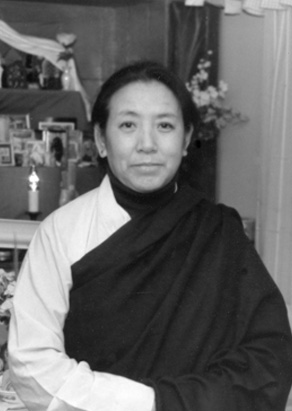 Jetsün Kushok Chimey Luding (Wyl. rje btsun 'chi med klu sdings) (b. 1938) is one of the most respected female teachers of Tibetan Buddhism.
傑尊姑秀企美祿頂仁波切是藏傳佛教中極受敬重的女性上師之一。
Born in 1938, she is the elder sister of the current head of the Sakya lineage, one of the four main schools of Tibetan Buddhism, she received much of her training alongside her brother, His Holiness the Sakya Trizin, from such legendary teachers as Jamyang Khyentse Chökyi Lodrö. Devoting herself to Buddhist practices from an early age, she completed her first retreat at age 10. Many more important retreats like Hevajra, and Vajrayogini were to follow, enabling her to become one of fewer than a dozen masters (and one of the three women in the history of Sakya) who are qualified to transmit the Lamdré or "The Path that Together with its Results." Lamdré, like Dzogchen, Shyijé Chöd and Kalachakra Yogas, is among Tibet's "Eight Chariots," or unique and complete systems of practices leading to enlightenment. Jetsun Kushok gave her first transmission of the Lamdré, along with all the necessary empowerments, at age 17.
仁波切生於1938年,她是藏傳佛教四大教派中,現任薩迦傳承法王的胞姊。她所領受的大部份教法,都是與胞弟薩迦崔津法王,一同自蔣揚欽哲卻吉羅卓等具傳奇性的上師處所得到的。仁波切自幼便精勤修持佛法,在十歲時便圓滿了第一次閉關,後續更完成了許多重要的閉關,如吉祥喜金剛、金剛瑜伽女等,使她成為十來位(少於十二位)具有資格傳授「道果」的少數上師之一(也是薩迦史上唯一能夠傳授道果的三位女性上師之一)。「道果」如同大圓滿、息苦(施身)法及時輪金剛瑜珈,屬於西藏八大實修車乘─通向證悟的獨特且完整修持體系─的其中之一。傑尊姑秀仁波切在17歲那年,第一次傳授道果及所有的必要灌頂。
In 1959, Jetsün Kushok left Tibet in exile and, by way of India, eventually settled in Vancouver, Canada with her family in 1971. Struggling to care for her children and make a living in a new country, she had to partition her time between working as a knitwear designer and keeping up her meditation practices, often to the point of staying up all night. At the repeated request of the Sakya Trizin, Jetsün Kushok selflessly started to teach in Vancouver in the early 1980's and now all over the world. Beloved by all her students, Jetsün Kushok is both strict and warm, transmitting only genuine Buddhadharma in the traditional way, seasoned by her pragmatic experience of practicing and working in the West. Having overcome life's twists and turns with diligence and perseverance, Jetsün Kushok is an inspiration for Buddhists, both male and female, who are looking to integrate the Dharma with their daily lives.
1959年,傑尊姑秀仁波切離開西藏,流亡印度,最終在1971年,與她的家人落腳於加拿大溫哥華。在一個全新的國度中,她艱苦照顧孩子並負擔家計,必須將時間分割,在擔任編織設計師工作的同時,維持禪修的行持不輟,經常到徹夜不眠的地步。在薩迦崔津法王的持續懇請之下,傑尊姑秀仁波切於1980年代早期,在溫哥華開始無私地進行教學,如今更在世界各地弘法。傑尊姑秀仁波切恩威並重,深受學生愛戴,她只依照傳統方式傳授真實的佛法,並因身處西方的實修與工作經驗而更顯精熟。憑藉著精進努力與堅定不移的毅力,傑尊姑秀仁波切克服了生命中的顛簸崎嶇,對於尋求將佛法融入日常生活的佛教徒來說,無論是男是女,都是一種啟發激勵。
She is spoken of as an emanation of Vajrayogini.
人們公認仁波切為金剛瑜珈女的化身。
臉書連結:傑尊姑秀企美祿頂(Jetsün Kushok Chimey Luding)
Internal Links
External Links
Visits to Rigpa Centres
11 May 1995, London, teaching on meditation
28-29 May 1999, Vancouver, White Tara empowerment and teaching
17-18 October 2008, Lerab Ling, White Tara Wishfulfilling Wheel empowerment and teaching (full title in Wylie, sgrol dkar yid bzhin 'khor lo'i thun mong ma yin pa'i rjes gnang gi cho ga gsal bar bkod pa 'chi med grub pa'i bdud rtsi). On this occasion she also gave the lung for a corresponding sadhana, Chimé Drupé Nyelam and one of its commentaries, as well as Praise to Tara (sgrol ma'i bstod pa); Praise to the Twenty One Taras (sgrol bstod phyag 'tshal nyer gcig); Paying Respect to the Goddess (lha mo la gus ma); The Seven Branches composed by bikshuni Palmo (dge slong ma dpal mos mdzad pa'i yan lag bdun pa).
Rigpa Wiki
""Decode Wiki"" hereby provides the Chinese translation of certain contents from ""Rigpa Wiki"" with permission for all readers and free of charge, however, does not serve as its official translation. Suggestions and corrections are highly appreciated.
「解密維基」經「本覺維基」同意將其網站內容進行中譯並提供讀者免費參照,但非該網之官方中譯。敬請各方不吝指教。