Sakya Trizin 薩迦崔津法王
跳至導覽
跳至搜尋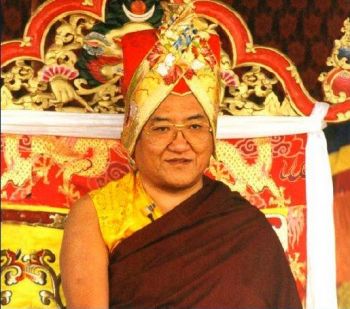 His Holiness Sakya Trizin[1][2] (Tib. ས་སྐྱ་ཁྲི་འཛིན་, Wyl. sa skya khri 'dzin) (b. 7 September 1945)[3] is the revered throne holder of the Sakya order of Tibetan Buddhism. He is the 41st patriarch of the Khön lineage which dates back to 1073. He is renowned as an emanation of both Manjushri and Mahasiddha Virupa, the founder of the Lamdré teachings, and also as an incarnation of Apang Tertön. He is a brilliant master who manifests profound wisdom and compassion, and his excellent command of English render his teachings particularly beneficial to western students.
薩迦崔津法王(拿旺.貢嘎.帖千.巴魃.桑佩.旺吉.嘉波)(1945年9月7日,藏曆木鷄年八月初一生)(藏人尊稱為「薩迦貢瑪仁波切」)是藏傳佛教薩迦派的尊貴法座持有者。他是可以追溯到1073年的昆氏傳承之第41任領袖,以身為文殊菩薩和道果教法祖師毗魯巴大成就者的化身而聞名,他也被認作是阿龐伏藏師的轉世。他是一位體現了深奧智慧和慈悲的卓越大師,而他對英語的優秀掌握也使得他的教導特別能夠利益西方弟子。
He was born in 1945 in Tibet and escaped with his family to India in 1959 where he continues to live and rebuild both the lay and monastic elements of the Sakya tradition. He has guided the establishment of over thirty monasteries in India and Nepal and has helped found Sakya centres around the world.
法王在1945年出生於西藏,在1959年與家人流亡至印度。他繼續居住在印度, 並且重建了薩迦派的在家傳承與寺院傳承。在他的指導下,在印度及尼泊爾建立了超過三十座寺院,他並且幫助成立了遍佈世界各地的薩迦中心。
His elder sister is Jetsün Kushok Chimey Luding. He has two sons, Khonrig Ratna Vajra Sakya and Khondung Gyana Vajra Rinpoche.
他的姊姊是傑尊.姑秀.奇美.祿頂 (Jetsün Kushok Chimey Luding)。 他有兩個兒子,分別為:法王子大寶金剛仁波切(Khonrig Ratna Vajra Sakya),及法王子智慧金剛仁波切(Khondung Gyana Vajra Rinpoche.)
Teachings & Empowerments Given to the Rigpa Sangha 對本覺會僧迦的開示和灌頂
October 1984—spends eight days at the London Rigpa centre; gives the empowerments of Manjushri and Vajrakilaya and teaches on 'The Triple Vision', 'The Teaching of Buddha in Everyday Life' and the 'Nature of Mind'.
1984 年10月,於倫敦本覺會中心的八天期間, 授予了文殊灌頂和普巴金剛灌頂, 教授《三現分》、「日常生活中的佛法」,以及「 心性」。
28-30 March 1989—teaches at Cornwall retreat, UK; gives Vajrakilaya & Manjushri empowerments.
1989年3月28日至30日,於英國的康沃爾閉關中心傳法,授予普巴金剛灌頂和文殊灌頂。
3-4 April 1989—teachings in Paris.
1989年4月3日至4日,於巴黎傳法。
14-15 September 1996, Paris, Salle Adyar, 'The Healing Power of the Mind' event—teaches on healing in the context of the Four Noble Truths and gives a Vajrasattva empowerment.
1996年9月14日至15日,在巴黎沙莉阿戴劇院的「 心的療癒力」集會中,以四聖諦為基礎對「療癒」作開示,並授予金剛薩埵灌頂。
28-29 September 1996, Lerab Ling, 'Wisdom and Compassion' event—teachings on the heart and essence of the Mahayana, and gives Chenrezik and Manjushri empowerments.
1996年9月28日至29日,在雷瑞林的「智慧與慈悲」集會中,教授大乘心髓, 並授予觀音灌頂和文殊灌頂。
3-4 June 2000, London Rigpa—gives an empowerment.
2000年6月3日至4日,在倫敦本覺會,授予一個灌頂。
3-7 July 2010, Rigpa Berlin Centre.
2010年7月3-7日,本覺會柏林中心。
Notes
↑ Also called by Tibetans Sakya Gongma Rinpoche (ས་སྐྱ་གོང་མ་རིན་པོ་ཆེ་, Wyl. sa skya gong ma rin po che).
↑

His fuller name is: Ngawang Kunga Tekchen Palbar Sampel Wangi Gyalpo.

↑

In the lunar calendar: 1st day of the 8th lunar month of the Wood Bird year.
Publications
His Holiness Sakya Trizin, Freeing the Heart and Mind—Introduction to the Buddhist Path: Part 1, Wisdom Publications
薩迦崔津法王,《解脫心靈:佛法之道入門:第一部》,智慧出版社
Further Reading
Sandra Penny-Dimri,'The Lineage of His Holiness Sakya Trizin Ngawang Kunga' in The Tibet Journal, Vol.20 No.4 Winter 1995
桑德拉. 朋尼.蒂米尼,薩迦崔津法王拿旺.貢噶之傳承,西藏學刊,20卷4期,1995年冬季
Internal Links
External Links
Rigpa Wiki
""Decode Wiki"" hereby provides the Chinese translation of certain contents from ""Rigpa Wiki"" with permission for all readers and free of charge, however, does not serve as its official translation. Suggestions and corrections are highly appreciated.
「解密維基」經「本覺維基」同意將其網站內容進行中譯並提供讀者免費參照,但非該網之官方中譯。敬請各方不吝指教。