Geshe Lobsang Tenzin 洛桑丹津格西
跳至導覽
跳至搜尋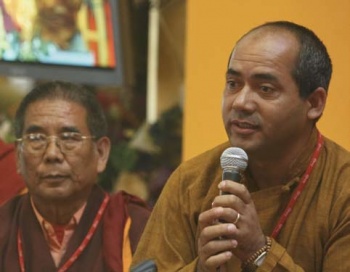 Geshe Lobsang Tenzin is the president and spiritual director of Drepung Loseling Monastery, Inc. He has taught courses since the centre's inception in 1991 and continues to oversee its activities and development. Geshe Lobsang holds both a Geshe Lharampa degree from Drepung Loseling Monastery in India and a Ph.D. from Emory University's Graduate Institute of Liberal Arts. Geshe Lobsang is also active at Emory University, where he is a senior lecturer at the Department of Religion and chairman of the Emory-Tibet Partnership. He has contributed to the development of a number of programmes linking Emory University with Tibetan institutions of higher learning in India. He is also engaged in collaborative research at Emory on meditation and its impact on health.
洛桑丹津格西是哲蚌洛色林寺院在美機構(Drepung Loseling Monastery, Inc.)的主席與精神導師,且自1991年中心建立後,便開始在此授課並繼續督導其各項活動與發展。洛桑格西具有印度哲蚌洛色林寺拉然巴格西(最高格西)的資格及Emory大學文學研究所的博士學位。他於Emory大學亦相當活躍,除擔任宗教系的資深講師及Emory-Tibet 合作關係之主席,同時也促成Emory大學與印度有關高等教育的西藏機構發展出許多合作計畫。除此之外,他也從事Emory大學對於禪修與其之於健康影響的合作研究。
Geshe Lobsang Tenzin is also a member of the Tenzin Gyatso Scholars Program's advisory council, which is being developed by the Tenzin Gyatso Institute.
另外,洛桑丹津格西也是丹增嘉措研究院所推行之丹增嘉措學者計畫(Tenzin Gyatso Scholars Program)的指導顧問之一。
External Links
Rigpa Wiki
""Decode Wiki"" hereby provides the Chinese translation of certain contents from ""Rigpa Wiki"" with permission for all readers and free of charge, however, does not serve as its official translation. Suggestions and corrections are highly appreciated.
「解密維基」經「本覺維基」同意將其網站內容進行中譯並提供讀者免費參照,但非該網之官方中譯。敬請各方不吝指教。