"Forty-two peaceful deities 四十二寂靜尊(文武百尊之「文尊」)" 修訂間的差異
出自 Decode_Wiki
小

行 21:
行 21:
 
 
 

====29-34) The Six Munis====

 

====29-34) The Six Munis====

−

{{:six munis}}<br>

+

{{:}}<br>

 
 
 

====35-38) The Four Male Gate Keepers====

 

====35-38) The Four Male Gate Keepers====
---
於 2018年12月18日 (二) 22:35 的修訂
The
forty-two peaceful deities
(Tib.
shyiwé lha shyé nyi
;
Wyl.
zhi ba'i lha zhe gnyis
) belong to the mandala of the
Hundred Peaceful and Wrathful Deities
, and feature in several practices and cycles of teachings, most notably the
Tibetan Book of the Dead
and the
Guhyagarbha Tantra
. They are:
1) Samantabadra
Samantabhadra (Wyl. kun tu bzang po);

2) Samantabadri
Samantabhadri (Wyl. kun tu bzang mo);

3-7) The Five Male Buddhas of the Five Families
Buddhas of the five families  (Skt. jinakula; Tib. རྒྱལ་བ་རིགས་ལྔ་, Wyl. rgyal ba rigs lnga) — the five peaceful buddhas of the sambhogakaya: 五佛部之佛-五位寂靜相報身佛。
8-12) The Five Female Buddhas of the Five Families
The five female buddhas of the five families, also known as the five mothers (Wyl. yum lnga) are:
13-20) The Eight Male Bodhisattvas
Eight Great Bodhisattvas, or 'Eight Close Sons' (Skt. aṣṭa utaputra; Tib. ཉེ་བའི་སྲས་བརྒྱད་, Wyl. nye ba'i sras brgyad) — the main bodhisattvas in the retinue of Buddha Shakyamuni:
釋迦牟尼佛的主要眷屬(又稱八大心子)
Read more about them

21-28) The Eight Female Bodhisattvas
The eight female bodhisattvas (Wyl. byang chub sems ma brgyad) are also referred to as the eight offering goddesses. They are the consorts of the eight great bodhisattvas:
八大菩薩的明妃[譯註:嬉女、鬘女、歌女、舞女、花女、香女、燈女、塗女,皆屬三十七曼達供養]。
Symbolically they represent the pure state of sense objects.
象徵感官對境的淨相。

29-34) The Six Munis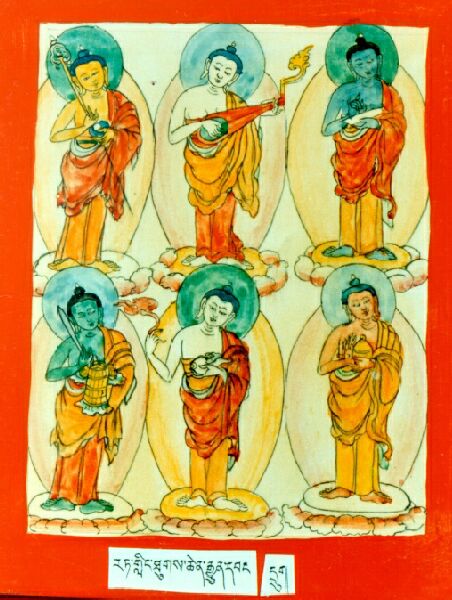 The Six Munis (Skt.; Tib. Tubpa Druk; Tib. ཐུབ་པ་དྲུག་, Wyl. thub pa drug) are the supreme nirmanakaya buddhas for each of the six classes of beings. They are:
相應度脫六道眾生的無上化身佛。分別是:
[譯註:能仁也可以直接翻譯為佛陀,堅淨一詞出於《地藏占察經》當中「堅淨信菩薩」的譯詞;感謝敦珠貝瑪南嘉師兄指導。2015.05.27更正]

35-38) The Four Male Gate Keepers
39-42) The Four Female Gate Keepers
These deities are also described as the deities of the three seats.
Further Reading
Thinley Norbu, The Small Golden Key (Shambhala Publications, 1999), pages 72-81.