Vairotsana 毘盧遮那 / 貝洛紮納 / 貝若扎那
跳至導覽
跳至搜尋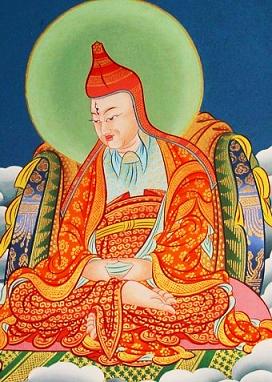 毘盧遮那Vairotsana (or Berotsana (Tib. བཻ་རོ་ཙ་ན་, Wyl. bai ro tsa na 或譯:貝洛紮納、貝若扎那), Vairochana (Tib. བཻ་རོ་ཅ་ན་, Wyl. bai ro ca na)) (eighth-ninth centuries 八至九世紀) — the greatest of all Tibetan lotsawas. Together with Padmasambhava and Vimalamitra, he was one of the three main masters to bring the Dzogchen teachings to Tibet.
西藏最偉大的譯師。與蓮花生大士和無垢友尊者共同將大圓滿法教帶入西藏。
Biography
Vairotsana was born into the Pagor (Tib. སྤ་གོར་, Wyl. spa gor) clan, and was sent to India by Trisong Detsen to study with Indian panditas. He also travelled widely in China, Khotan, Nepal, Shangshung and elsewhere. He was one of the original seven monks ordained by Shantarakshita.
由赤松德贊王派至印度從學於印度班智達。廣遊於漢地、于闐、尼泊爾、象雄等地。為寂護大師所授戒的七預士之一。

His principal teacher was Shri Singha, from whom he received the instructions and empowerments of sem dé, long dé and mengak dé. He also received direct transmissions from Mañjushrimitra, who appeared to him in his wisdom body[1]. In realization, Vairotsana became equal to Guru Rinpoche.
主要上師為師利星哈(吉祥獅子),從其領受心部、界部、口訣部的教誡與灌頂。亦從顯現於他前方的妙吉祥友智慧身獲得直接口傳(出自頂果欽哲仁波切《本淨》一書)。其後證量等同蓮師。

After returning to Tibet, he was eventually sent into exile in East Tibet; there he taught Yudra Nyingpo, Sangtön Yeshe Lama, and the old man, Mipham Gönpo before Trisong Detsen recalled him to Lhasa.
回返西藏後,遭受流放到東部;在赤松德贊王再度召回拉薩前,教導了玉札寧波、桑敦耶喜喇嘛,和一位稱為米滂袞波的老人。

He translated many of Shri Singha's works as well as many other mantrayana texts. He also translated part of the 100,000 verse Prajnaparamita text and other sutras. The exact number of his translations cannot now be traced, as the names of early translators were not always recorded by later translators.
他翻譯了諸多師利星哈的著作和其他咒乘文典。也參與翻譯了《般若波羅蜜多十萬頌》與其他經藏。由於新譯派譯師並未詳列前譯派譯師之名號,以致其譯作總數目前無法追溯。

Ngok Loden Sherab (1059-1109) once famously observed:
Vairotsana was like the boundless sky itself,
Kawa, Chok and Shyang were like the sun and moon,
Rinchen Zangpo was like the great dawn star—
Compared to them, we are like mere fireflies.
毘盧遮那猶如無邊空,
噶、焦、祥者好比日與月,
仁欽桑波則似啟明星─
吾等相較不過飛螢爾。

~鄂.羅登.謝拉譯師之名言

References
↑ Dilgo Khyentse Rinpoche, Primordial Purity.
Further Reading
A. W. Hanson-Barber, The Life and Teachings of Vairocana, University of Wisconsin, Madison, 1984
The Great Image: The Life Story of Vairochana the Translator, translated by Ani Jinba Palmo, Shambhala, 2004.
Nyoshul Khenpo, A Marvelous Garland of Rare Gems: Biographies of Masters of Awareness in the Dzogchen Lineage (Junction City: Padma Publications, 2005), pages 49-51.
External Links