Sangyum Rigdzin Wangmo 桑嫞仁增旺嫫
跳至導覽
跳至搜尋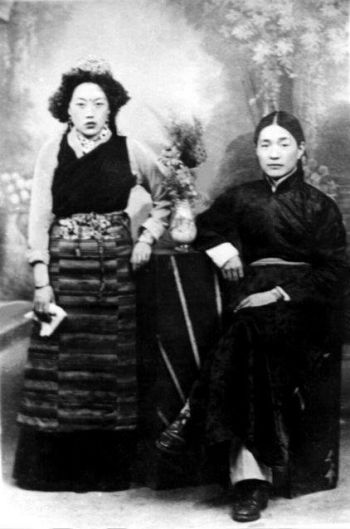 Sangyum Rigzin Wangmo (Dudjom Sangyum Kusho Rigdzin Wangmo) married Dudjom Rinpoche while they were still in Tibet. She was the mother of Dekyong Yeshe Wangmo, Chimey Wangmo (their second eldest daughter), Shenphen Dawa Rinpoche and Tsering Penzom, their younger daughter.
桑嫞仁增.旺嫫(敦珠.桑嫞.姑秀.仁增.旺嫫)與敦珠仁波切在西藏結為連理。育有德雍耶喜汪嫫、奇美汪嫫(次女)、賢遍達瓦仁波切和慈琳班宗(幼女)。
臉書連結:桑嫞仁增旺嫫(Sangyum Rigzin Wangmo)
Sangyum Rigzin Wangmo spent many years in strict retreat and was considered a true hidden dakini. She passed away on on August 27th, 2014, at 5:55 pm at the Yeshe Nyingpo center in New York City.
桑嫞仁增.旺嫫曾進行多年的嚴格閉關,被認為是降生人間但祕而不宣的真實空行母。於2014年8月27日5:55分在紐約的耶喜寧波中心圓寂。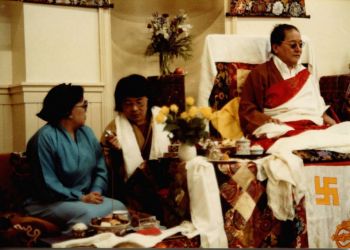 Sogyal Rinpoche wrote:[2]
Dudjom Sangyum Kusho, Rigzin Wangmo, [...] was one of the greatest dakinis I have ever known and the sangyum of Kyabjé Dudjom Rinpoche, my beloved master, of whom I spoke at length in The Tibetan Book of Living and Dying. She played such an important role in Dudjom Rinpoche's life. With her extraordinary love, care and magnetism, she lengthened his life and was able somehow to make him stay amongst us. Theirs was an enchanting relationship. Not only did she give him great spiritual support, and inspire an aura of completeness around them, but on a human level she created an incredible atmosphere of warmth and of family.
Often Sangyum Kusho would have visions in which dakinis would appear and grant prophecies that would lengthen Dudjom Rinpoche's life. When I used to request him for a divination, he would tell me to ask Sangyum Kusho, and said she was better than him at divinations. It was thanks to one of her predictions that Kyabjé Trulshik Rinpoche was able to avert an obstacle to his life, and many are the occasions when she has given me prophecies, and warned me of potential hazards. In fact she was like a guardian angel for me, kind, generous, and always praying for my long life and for Khandro Tsering Chödrön and my mother, or giving us guidance and divinations.[...] Sangyum Kusho was a refuge to us all.
According to her son Shenphen Dawa Rinpoche[3]:
根據其子賢遍達瓦仁波切所言:
Sangyum Rigdzin Wangmo was recognized as a manifestation of White Tara and of Yeshe Tsogyal. She was the predicted and prophesied consort for Dudjom Rinpoche. He received this divine prophecy from the dakinis when my mother was just eight years old. At the same time, at that young age, my mother received dakini teachings from Yeshe Tsogyal which she immediately put into practice.
佛母被視為白度母與耶喜措嘉之化現,並被授記為敦珠仁波切之佛母。當家母還只八歲時,敦珠仁波切便從空行處領受此神聖授記。在此同時,家母也於幼年從耶喜措嘉領受空行法教,並立即實修。
Their meeting was arranged by Dudjom Rinpoche's Dharma Protectors, Shenpa. Shenpa appeared to my mother's father indicating the prophecy for her to marry His Holiness. Shenpa simultaneously appeared to His Holiness indicating when the meeting would occur. Rinpoche married her in Tibet while she was still in her teens. An interesting historical parallel is that, again as a manifestation of Tara, she was the consort of Dudjom Lingpa, His Holiness's previous incarnation. In that life, she took her very body to the buddhafield. One day when Dudjom Lingpa returned, she had already gone, with no trace.
敦珠仁波切與家母之初會是由敦珠仁波切的護法—賢巴所安排,賢巴於外祖父前出現,指示他女兒已被授記要與敦珠仁波切成為夫妻,賢巴同時出現在敦珠仁波切面前並指出兩人的會面時間。敦珠仁波切在家母還只是十多歲的時候便在西藏與她結為連理。有意思的是,過去也有相似的事情發生,那就是家母的前一世為綠度母的化現,曾是前一世敦珠仁波切敦珠林巴的明妃。在那一世,家母以色身達至佛土,就在那一天,當敦珠林巴回來時,她已經消失得無影無蹤。
The union of Dudjom Rinpoche and Sangyum Rigdzin Wangmo produced one son and three daughters. The eldest daughter, Dekyong Yeshe Wangmo, dissolved her body into space at a very young age. His Holiness recognized her as a Yeshe Tsogyal emanation, but unfortunately we didn't have enough merit for her to live longer. His Holiness composed the Dzang Dok Palri prayer (Copper Colored Palace of Guru Rinpoche) in her memory. Indeed, Rinpoche loved her profoundly. He often commented as to how sad he was that she did not live longer.
敦珠仁波切與桑嫞仁增旺嫫育有一子三女。長女德雍耶喜汪嫫在相當年少時,將身體消融於虛空中;法王曾認證她為耶喜措嘉的化現,但很可惜我們沒有足夠的福德讓她長久住世。法王曾撰《蓮師銅色吉祥山願文》來懷念她,也其實非常疼愛她,經常提到她的無法長久住世讓自己感到難過。
The next eldest daughter Chimey Wangmo and the younger daughter Tsering Penzom are also manifestations of dakinis. From the union of my sister Chimey Wangmo and Dasho Urgyen Wangchuk, Lhanzey Wangmo was born. Before Lhanzey Wangmo's birth, His Holiness recognized her as the reincarnation of his mother, Namgyal Drolma. I, their son Shenphen Dawa Norbu Rinpoche, was predicted to be born to them and was personally delivered at birth by His Holiness. I was recognized as the reincarnation of Prince Jamphen Norbu, Taksham Terton, Gyalsay Nangwa Thaye, and Tulku Pema Yeshe.[…]
次女奇美汪嫫及幼女慈琳班宗也是空行母的化現。妹妹奇美汪嫫和達碩烏金旺楚克結婚後生下朗澤汪嫫。在朗澤汪嫫出生前,敦珠仁波切便認證其為法王母親(南佳卓瑪)的轉世。而我,賢遍達瓦諾布仁波切,被授記為法王之子,是由法王親自接生的,並被認證為蔣潘諾布王子、塔香伏藏師、嘉瑟囊瓦泰耶和祖古貝瑪耶喜的轉世。
My mother, Sangyum Rikzin Wangmo, has been the wisdom dakini manifestation who not only prolonged my father's life but also fostered the auspicious flourishing of his wisdom revelations. I remember my father saying that his sunshine of happiness radiated when he first met my mother. I credit her with not only taking good care of His Holiness but also unceasingly encouraging his activity to benefit all parent sentient beings.
家母桑嫞仁增旺嫫身為智慧空行母的化現,不僅讓家父延壽,也使其智慧顯露更加吉祥綻放。記得家父曾說過,他與家母第一次相遇的時候,喜悅如陽光般照耀。我認為家母不只悉心照顧法王,同時也使法王利益一切如母有情眾生的佛行事業不斷增長。
As many of you know, my mother spent most of her life in strict retreat. She took a proactive role in recognizing the reincarnation of many Lamas. Her dreams were clairvoyant: they were all predictions. Before any tragedy fell on the family or others, she would foresee it and indicate methods to reverse it.
如各位所知,家母一生大部分時間都在嚴格閉關,她積極認證了許多上師的轉世。她的夢境能預見未來:那些夢境都和預言有關。在任何不幸發生於家族或他人之前,家母會先預知並指示迴遮的方法。
We are indeed fortunate she lived for 89 years. Generally in our tradition, it is known that when a tertön leaves his body, his Dakini consort follows. She had many visions and situations where she was invited by the Dakinis to leave her body to come to their Buddhafields, but she refused, saying she still wanted to be with her children. Once again I thank her for her consideration for being with us as long as she has been. I have no doubt that she has the full power to leave her body whenever she chooses. It is now my ardent prayer that she will swiftly reincarnate and we have the good fortune to once again be in the midst of her presence. May her reincarnation be free of obstacles and may she grace and bless us soon.
家母能住世到89歲,實為我們的福報。一般來說,依照我們的傳統,當伏藏師離開他的身體時,他的空行佛母將會伴隨。家母於多次淨相和場合中由空行母邀請,要她捨棄色身而到她們的淨土,但是都被家母拒絕,表示她還想陪伴自己的孩子們。謹再次感恩家母的用心,願意盡量留下來與我們一起。我對家母隨時可選擇捨棄色身的能力毫無置疑。我謹在此祈願家母能迅速轉世,讓我們有幸能再次與她相處,祈願家母的轉世無有障礙,祈願她早日來世並加持我們。
Notes