Samsara 輪迴
跳至導覽
跳至搜尋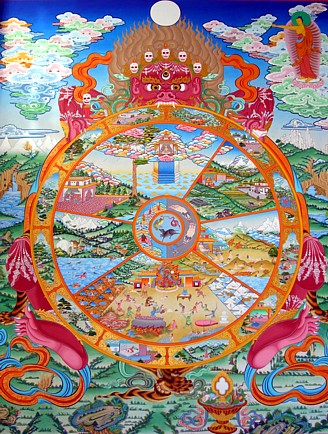 Samsara (Skt. saṃsāra; Tib. འཁོར་བ་, khorwa; Wyl. 'khor ba) is the cycle of conditioned existence, birth and death, which is characterized by suffering and in which one is continually reborn until attaining nirvana.
Translation
Luis Gomez has written:
...one should note that saṃsāra is not "cyclic" existence. The term means either wandering about or moving on without interruption, like a river current.[1]
Alternative Translations
The round (Matthew Kapstein)
Notes
↑ Luis O. Gómez, 'The Way of the Translators: Three Recent Translations of Sântideva's Bodhicaryâvatâra'. Buddhist Literature I (1999) p.314.
輪迴 samsara (Skt. saṃsāra; Tib. འཁོར་བ་, khorwa; Wyl.'khor ba)
三界 the three realms (Skt. tridhātu; Tib. ཁམས་གསུམ་, kham sum;Wyl. khams gsum)
六道 six classes of beings [Three Realms of Samsara]
Six classes of beings 六道眾生 (Skt. ṣaḍgati; Wyl. rigs drug) — the major modes of existence within samsara, each caused and dominated by a particular destructive emotion: 因特定煩惱所致的輪迴流轉
1. hell beings (Wyl. dmyal ba) - anger 地獄道:瞋恨
2. hungry ghosts, or pretas (Wyl. yi dvags) -miserliness 餓鬼道:慳吝
3. animals (Wyl. dud 'gro) - stupidity 畜牲道:愚癡
4. human beings (Wyl. mi) - desire 人道:貪愛
5. demi-gods, or asuras (Wyl. lha min) - jealousy 阿修羅 (非天): 忌妒
6. gods (Wyl. lha) - pride 天道:傲慢
The first three constitute the three lower realms (惡趣、下三道) and the latter three, the three higher realms (善趣、上三道).
參考:http://blog.xuite.net/yeshi_tsogyal/twblog/240007916
Internal links