Pema Lingpa 貝瑪林巴
跳至導覽
跳至搜尋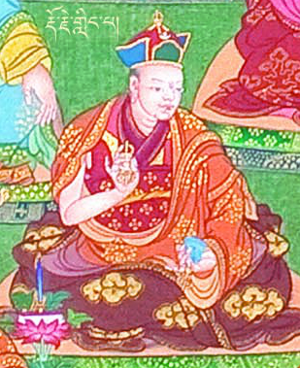 Pema Lingpa (Wyl. pad+ma gling pa) (1450-1521) was an important tertön from Bhutan, listed as the fourth of the five sovereign terma revealers. He is considered to be the last of the five incarnations of princess Pema Sal. According to Nyoshul Khen Rinpoche: "the first of [ Longchenpa's incarnations] was Rigdzin Pema Lingpa, [...] a fact implicitly referred to in Stainless Light, Longchenpa's last will and testament."[1]
貝瑪林巴是一位來自不丹的重要伏藏師,乃五大伏藏王中的第四位。他被認為是貝瑪薩(蓮花明)公主五次轉世的最後一世。根據紐舒堪仁波切所言:「持明貝瑪林巴是[龍欽巴轉世源流的]第一世,…這是在龍欽巴遺囑和遺教《無垢光》中所暗示的事實。」
臉書連結:貝瑪林巴(Pema Lingpa)
Revelations
Notes
Further Reading
Dudjom Rinpoche, The Nyingma School of Tibetan Buddhism, Its Fundamentals and History, trans. and ed. Gyurme Dorje (Boston: Wisdom, 1991), page 796-799.
Nyoshul Khenpo, A Marvelous Garland of Rare Gems: Biographies of Masters of Awareness in the Dzogchen Lineage (Junction City: Padma Publications, 2005), pages 367-368.
Sarah Harding (trans.), The Life and Revelations of Pema Lingpa (Ithaca: Snow Lion, 2003).
Thurman, Robert. "Review of Hidden Treasures and Secret Lives" in The Journal of Asian Studies 50(2), pages 375–77. 1991.
Internal Links
External Links