Ling Rinpoche 凌仁波切
跳至導覽
跳至搜尋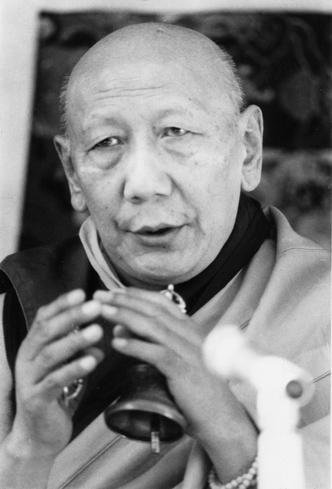 Yongdzin Ling Rinpoche Thupten Lungtok Namgyal Trinlé (1903-1983) - the 97th Ganden Tripa and senior tutor to His Holiness the Dalai Lama. His reincarnation Tenzin Lungtok Thinley Choephak was born in Bir, India in 1985.
永津林仁波切圖登.隆朵.南嘉.聽列(1903-1983) — 為第97世甘丹赤巴法王以及法王達賴喇嘛的資深親教師。他的轉世—丹增.隆朵.聽列.曲帕在1985年出生於印度的比爾。
Further Reading
'The Autobiography of Kyabje Ling Rinpoche', translated by Losang Norbu Tsonawa in Tibet Journal, Vol. VIII, No. 3, Autumn 1983
External Links
Rigpa Wiki
""Decode Wiki"" hereby provides the Chinese translation of certain contents from ""Rigpa Wiki"" with permission for all readers and free of charge, however, does not serve as its official translation. Suggestions and corrections are highly appreciated.
「解密維基」經「本覺維基」同意將其網站內容進行中譯並提供讀者免費參照,但非該網之官方中譯。敬請各方不吝指教。