Khenpo Dawé Özer 堪布達威歐瑟
跳至導覽
跳至搜尋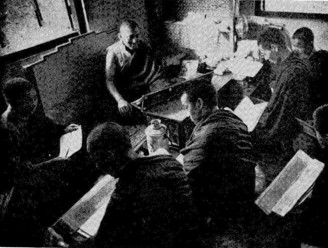 Khenpo Dawé Özer (Tib. མཁན་པོ་ཟླ་བའི་འོད་ཟེར་, Wyl. mkhan po zla ba'i 'od zer) aka Khenpo Dazer (མཁན་པོ་ཟླ་ཟེར་, Wyl. mkhan po zla zer) (1922-1990) — he was from Rahor, a branch of Dzogchen monastery founded by the Third Dzogchen Rinpoche in Gyalrong near Dergé. He was a student of Pöpa Tulku. He escaped from Tibet together with his former classmate Rahor Khenpo Tupten and went together with him to Sikkim via Bhutan.
堪布達威歐瑟(Khenpo Dawé Özer),又名堪布達澤(Khenpo Dazer)(1922-1990),來自佐欽寺(Dzogchen monastery)的那羅(Rahor)分寺,這是由第三世佐欽仁波切(Third Dzogchen Rinpoche)在德格(Dergé)附近的嘉絨(Gyalrong)所創立的。堪布是波巴祖古(Pöpa Tulku)的學生。他和昔日同窗那羅堪布圖滇(Rahor Khenpo Tupten)一起離開西藏,再從錫金遷移到不丹。
He taught at Namdroling in South India, where he also compiled a collection of prayers and liturgies used in Nyingma rituals, and eventually returned to Tibet, where he taught at the Shri Singha Shedra at Dzogchen Monastery.
他曾任教於南印度的南卓林寺,並於該處編纂了一套寧瑪法會常用的祈願文和儀軌總集。後來返回西藏佐欽寺(Dzogchen Monastery),任教於該寺的師利星哈佛學院(Shri Singha Shedra)。
Writings
ཆོས་སྤྱོད་བསྡུས་པ་ཕན་བདེའི་དགའ་སྟོན་, chos spyod bsdus pa phan bdeʾi dgaʾ ston (editor)
Further Reading
In Tibetan
Acharya Tsultrim Gyatso, སྦས་ཡུལ་འབྲས་མོ་ལྗོངས་སུ་དེང་རབས་བོད་ཀྱི་བླ་མ་སྐྱེས་ཆེན་དམ་པ་རྣམས་ཀྱིས་མཛད་པ་ཕྱག་རིས་ཇི་བསྐྱངས་ཀྱི་རྣམ་ཐར་ཤིན་ཏུ་བསྡུས་པ།, sbas yul 'bras mo ljongs su deng rabs bod kyi bla ma skyes chen dam pa rnams kyis mdzad pa phyag ris ji bskyangs kyi rnam thar shin tu bsdus pa, Namgyal Institute of Tibetology, 2008
In English
Marilyn Silverstone, 'Five Nyingmapa Lamas in Sikkim', Kailash: A Journal of Himalayan Studies, 1973, vol. 1.1
Nyoshul Khenpo, A Marvelous Garland of Rare Gems, Padma Publishing, 2005, p. 480
External Links
Rigpa Wiki
""Decode Wiki"" hereby provides the Chinese translation of certain contents from ""Rigpa Wiki"" with permission for all readers and free of charge, however, does not serve as its official translation. Suggestions and corrections are highly appreciated.
「解密維基」經「本覺維基」同意將其網站內容進行中譯並提供讀者免費參照,但非該網之官方中譯。敬請各方不吝指教。