Five elements 五大
跳至導覽
跳至搜尋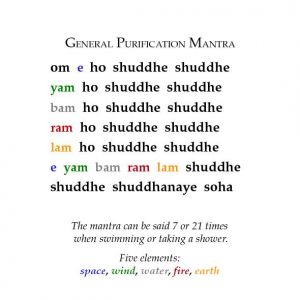 Five elements (Tib. བྱུང་བ་ལྔ་, Wyl. 'byung ba lnga, jungwa nga) — the outer elements that constitute all matter. They are:
earth (Skt. pṛthivī; Wyl. sa)
water (Skt. ab; Wyl. chu)
fire (Skt. tejas; Wyl. me)
air (or wind) (Skt. vāyu; Wyl. rlung) and
space (Skt. ākāśa; nam mkha')
These outer elements interact with the inner elements within our own physical body, and the potential and quality of these five elements also exist within our mind.
Mind's ability to serve as the ground for all experience is the quality of earth; its continuity and adaptability is water; its clarity and capacity to perceive is fire; its continuous movement is air; and its unlimited emptiness is space.
In Vajrayana
In the Vajrayana the five elements are perceived as the five female buddhas or five mothers:
Further Reading
Getse Mahapandita, Husks of Unity, translated in Deity, Mantra and Wisdom, Snow Lion, 2007, 'The Layered Elements', page 114.
Thinley Norbu, Magic Dance – the Display of the Self-nature of the Five Wisdom Dakinis
Sogyal Rinpoche, The Tibetan Book of Living and Dying, pages 251-252