Prayer to His Holiness the Dalai Lama by Dilgo Khyentse Rinpoche
跳至導覽
跳至搜尋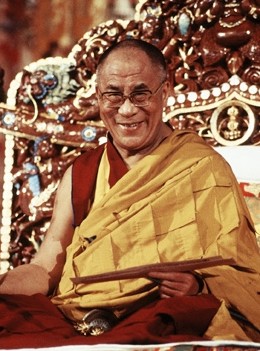 Prayer to His Holiness the Dalai Lama by Dilgo Khyentse Rinpoche
TONG NYI NYING JÉ ZUNG DU JUKPÉ LAM
You make the path that combines emptiness and compassion grow clearer and clearer,

CHÉ CHER SAL DZÉ GANG CHEN TEN DRÖI GÖN
Lord of the teachings and beings in the Snowy Land of Tibet,

CHAK NA PÉMO TENDZIN GYATSO LA
To you, the Lotus Holder Tenzin Gyatso,

SOLWA DEP SO SHYÉ DÖN LHUN DRUP SHOK
I pray: may all your wishes be spontaneously fulfilled!

In accordance with the prayers made by Kyabjé Dilgo Khyentse Rinpoche, these are the blessed words of His Holiness himself. Sarva mangalam!