Prayer for the Long Life of Dzongsar Jamyang Khyentse Rinpoche 宗薩欽哲仁波切長壽祈請文
跳至導覽
跳至搜尋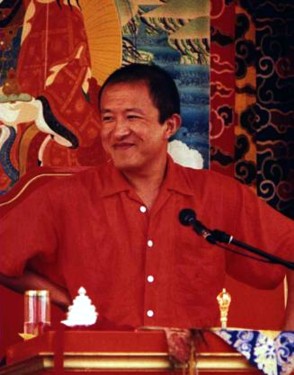 Prayer for the Long Life of Dzongsar Jamyang Khyentse Rinpoche宗薩欽哲仁波切長壽祈請文

嗡 斯瓦斯帝
智慈之舞、佛法主
深廣教證大法海
藉聞思修得自在
無上化身悉滿願
壽命事業皆無盡

OM SWASTI
Om svasti!

TUPTEN YONG DZOK NGA DAK KHYENTSÉI GAR
Dance of wisdom and love, sovereign of the entire Buddhist teaching––

ZAP GYÉ LUNGTOK CHÖKYI GYATSO CHÉ
The great Dharma-ocean of the transmission and realization of the profound and vast,

SEN SAM GOMPÉ WANG GYUR CHOKTRUL GYI
You have mastered through hearing, reflecting and meditating.

TUK KYÉ KU TSÉ TRINLÉ TAR CHIN SHOK
Supreme incarnation, may your aspirations be fulfilled, and may your life and activity be infinite.

In Bumthang in Bhutan, in the vajra cave of Kurje, where there is Guru Rinpoche's body imprint in the rock, when presenting an offering cloud of the Ancient Translation's oral lineage, the humble disciple Mangala Shri Bhuti (Dilgo Khyentse Rinpoche) prayed thus.
卑微弟子芒嘎拉師利布提(頂果欽哲仁波切)於不丹苯塘蓮師身印岩所在之古傑金剛窟,獻上寧瑪口傳供養雲時如是祈願。
悉達多本願會官網公告之長壽祈請文 https://taiwan.siddharthasintent.org/assets/Taiwan-Files/PDF/djkrlonglifeprayer.pdf