Khandro Tsering Chödrön 康卓慈琳確諄/二世欽哲佛母
出自 Decode_Wiki
Khandro Tsering Chödrön (Tib. མཁའ་འགྲོ་ཚེ་རིང་ཆོས་སྒྲོན་, Wyl. mkha' 'gro tshe ring chos sgron) (1929-2011), the spiritual wife of Jamyang Khyentse Chökyi Lodrö, was universally acknowledged as one of the foremost female practitioners of Tibetan Buddhism of recent times and was considered to be an emanation of Shelkar Dorje Tso.
康卓慈琳確諄(Khandro Tsering Chödrön, Tib. མཁའ་འགྲོ་ཚེ་རིང་ཆོས་སྒྲོན་, Wyl. mkha''gro tshe ring chos sgron, 1929-2011)為蔣揚欽哲確吉羅卓的佛母,是舉世皆知近代藏傳佛教中最傑出的女性修行者之一,被視為雪卡多傑措的化身。
Biography 傳記
Khandro was born in the Earth Snake year (1929) into the Aduk Lakar family of Kham Trehor, an ancient family of benefactors who supported many monasteries and teachers in Tibet dating back to the time of Je Tsongkhapa. Her mother was Dechen Tso, a princess of Ling, who was married to the two Lakar brothers Tutob Namgyal and Sonam Tobgyal. She became Jamyang Khyentse's spiritual wife in 1948, at a time when he was in poor health and many of his disciples were urging him to take a consort to prolong his life. For the next eleven years she served as his attendant and devoted companion, receiving countless teachings and transmissions, requesting practices and prayers and putting questions to him in the form of songs.
康卓生於1929年地蛇年,為康地垂賀的阿督拉卡家族之一員,此古老家族歷代皆為功德主,年代可回溯到宗喀巴時代,他們曾經護持許多在西藏的寺廟及上師。她的母親是德千措,是伶(Ling)的公主,嫁給拉卡的兩位兄弟度多南嘉與索南多嘉。康卓於1948年成為蔣揚欽哲的佛母,當時蔣揚欽哲的健康不佳,其多位弟子敦促他要納娶佛母以延長壽命。在此之後的十一年,她成為蔣揚欽哲的侍者與忠誠伴侶,領受無數的教法與口傳,祈請給予修持與願文,並用詩歌方式請求他解答問題。
According to Dzongsar Ngari Tulku (Tenzin Khedrup Gyatso), on one occasion [c.1952], when Jamyang Khyentse Chökyi Lodrö was opening the sacred place of Khyungchen Paldzong (ཁྱུང་ཆེན་དཔལ་རྫོང་, khyung chen dpal rdzong), known locally as Gyalgen Khyungtak (རྒྱ་རྒན་ཁྱུང་ལྟག་, rgya rgan khyung ltag), above Dzongsar Monastery, Jamyang Khyentse, Gyarong Khandro, Khandro Tsering Chödrön and Sogyal Rinpoche all left their handprints in the solid rock.
據宗薩納瑞祖古(丹增克竹嘉措)說,在1952年時,當蔣揚欽哲確吉羅卓開啟在宗薩寺上方的瓊謙巴宗(Khyungchen Paldzong, ཁྱུང་ཆེན་དཔལ་རྫོང་, khyung chen dpal rdzong)聖地─當地人稱之為賈堅瓊塔(རྒྱ་རྒན་ཁྱུང་ལྟག་, rgya rgan khyung ltag),那時,蔣揚欽哲、賈榮康卓、康卓慈琳確諄及索甲仁波切全都在堅硬岩石上留下了他們的手印。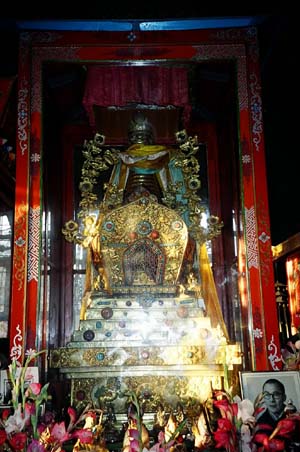 Together with her elder sister, Tsering Wangmo whose husband Tsewang Paljor was Jamyang Khyentse's private secretary, the young Sogyal Rinpoche, Lama Chokden and a small party of family and attendants, she accompanied Jamyang Khyentse to Central Tibet in 1955, during which time her tutor Lama Tseten passed away near Yamdrok Tso. From Central Tibet the party went to India and to Sikkim, making their residence at the temple of the Royal Palace in Gangtok.
康卓與他的姐姐慈琳汪嫫(先生為蔣揚欽哲的私人秘書策旺帕久)、年輕的索甲仁波切、邱頓喇嘛及家族少許成員與侍者等,在1955年一起跟著蔣揚欽哲到西藏中部,這段期間,她的親教師策殿喇嘛在靠近羊卓湖的地方圓寂。這一行人從中藏出發,前往印度並來到錫金,於岡托的皇室寺院定居。
Khandro continued to live there for many years after Jamyang Khyentse passed away in 1959, quietly devoting her life to constant prayer in the presence of his reliquary stupa. During this time she read the entire Kangyur and Tengyur. She travelled from Sikkim to Europe and America several times (see dates and places below) at the request of her nephew Sogyal Rinpoche. On 5th of December 2006, near the beginning of Rigpa's first three-year retreat, Khandro Tsering Chödrön took residence in Lerab Ling.
在蔣揚欽哲於1959年圓寂後,康卓仍繼續於此居住多年,在其夫舍利塔的前面持續祈禱,平靜地奉獻了她的生活。這段期間,她讀誦了整部甘珠爾與丹珠爾, 後依其姪子索甲仁波切的請求,從錫金旅行至歐洲及美國數次(日期與地點請見下方)。就在2006年12月5日,首次的Rigpa(本覺會)三年閉關開始之時左右,康卓慈琳確諄在雷瑞林定居。
Khandro Tsering Chödrön passed away on the 24th day of the 3rd lunar month (26th May 2011) in Lerab Ling. Sogyal Rinpoche and Orgyen Tobgyal Rinpoche were both present at the moment of her passing where she showed all the signs of attaining the final accomplishment of a great Dzogchen practitioner.
康卓慈琳確諄於2011年5月26日(藏曆三月二十四日)在雷瑞林圓寂,當時索甲仁波切及烏金督佳仁波切皆在場,見證了她顯現大圓滿(Dzogchen)偉大修持者之最高成就的所有徵象。
Gallery of Images
Khadro Tsering Chödrö's memorial stupa in Lerab Ling, France
Early Visits to the West
[some of this information still needs to be double checked]
1981: UK (St Paul's Crescent Rigpa Centre) and France (Grasse, Valmorin August retreat)
1982: US (Vidya School in Boulder and Rigpa retreats)
1984: France (La Castillanderie 1984), US (Santa Cruz retreat)
1988: US (Dharmadhatu Centre in Berkley, September), Dzogchen Beara in October, Switzerland, Germany
1996: Khandro's first visit to Lerab Ling
Oral Accounts of Her Life
Sogyal Rinpoche, Berkley Dharmadhatu, CA, 2 September 1988
Orgyen Tobgyal Rinpoche, Lerab Ling, 24 August 1996
Orgyen Tobgyal Rinpoche, Lerab Ling, 30 May 2011
Sogyal Rinpoche, Berlin Centre, 3 June 2011
Sogyal Rinpoche, Dzogchen Beara, 15 June 2011
Sogyal Rinpoche, Garrison Institute, 26 June 2011
Sogyal Rinpoche, Lerab Ling, 17 July 2011
Further Reading
Dilgo Khyentse Rinpoche, Brilliant Moon: An Autobiography of Dilgo Khyentse Rinpoche (Boston & London: Shambhala, 2008), pages 128, 138.
Jamyang Sakya and Julie Emery, Princess in the Land of Snows: The Life of Jamyang Sakya in Tibet (Boston: Shambhala, 1990)
Sogyal Rinpoche, The Tibetan Book of Living and Dying, pages 143-144.
View: The Rigpa Journal, August 2009, '50 Years On—The Life and legacy of Jamyang Khyentse Chökyi Lodrö'
Internal Links
External Links
Rigpa Wiki
""Decode Wiki"" hereby provides the Chinese translation of certain contents from ""Rigpa Wiki"" with permission for all readers and free of charge, however, does not serve as its official translation. Suggestions and corrections are highly appreciated.
「解密維基」經「本覺維基」同意將其網站內容進行中譯並提供讀者免費參照,但非該網之官方中譯。敬請各方不吝指教。