Dodrupchen Rinpoche 多智欽仁波切(音譯:多竹千仁波切)
跳至導覽
跳至搜尋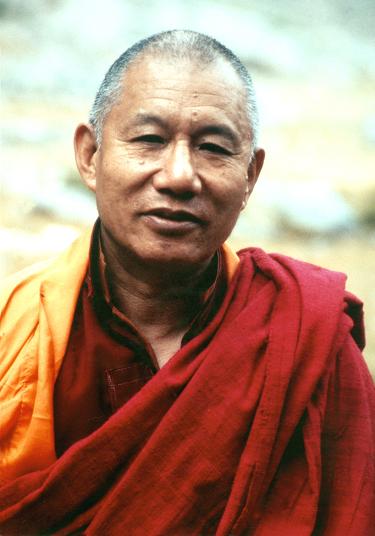 Kyabjé Dodrupchen Rinpoche, the Fourth Dodrupchen Rinpoche, Tubten Trinlé Pal Zangpo (Wyl. thub bstan phrin las dpal bzang po) aka Jikmé Trinlé Palbar (b.1927), is one of the most important living masters in the Nyingma and Dzogchen traditions. As the fourth incarnation of Dodrupchen Jikmé Trinlé Özer, the heart-son of Jikmé Lingpa who revealed the Longchen Nyingtik cycle, Dodrupchen Rinpoche is the principal holder of the Longchen Nyingtik teachings.
怙主多竹千仁波切(又譯多智欽仁波切)
第四世多竹千仁波切土登.聽列.巴.桑波(生於1927年),是當今寧瑪派和佐欽傳承最重要的在世上師之一。身為《龍欽心髓》取藏者吉美.林巴心子――多竹千.吉美 .聽列.沃瑟(Dodrupchen Jikmé Trinlé Özer)的第四世,多竹千仁波切乃為《龍欽心髓》法教的主要持有者。
He was born in 1927 in the Golok province of Dokham in the eastern part of Tibet. His birth was prophesized by the great Fifth Dzogchen Rinpoche Tubten Chökyi Dorje, who later recognized him. At the age of four, he travelled to the Dodrupchen monastery, where he was enthroned. Up until the age of six or seven especially, he displayed many miraculous signs of attainment, including prescience and visions of the buddhas.
仁波切於1927年出生於東藏多康的果洛地區。偉大的第五世佐欽仁波切土登.確吉.多傑(Tubten Chökyi Dorje)曾預言他的出世,並在後來為他認證。四歲時,他來到多竹千寺(多智欽寺)接受陞座(坐床)。一直到特別是六、七歲的時候,他顯示了許多不可思議的成就徵兆,包括預知能力與親見諸佛的淨相。
He studied with the great khenpos of Dodrupchen and Dzogchen monasteries, and at the age of eleven, he was given the empowerment and transmission of the Nyingtik Yabshyi and Longchen Nyingtik by Khenpo Kunpal, a disciple of the Third Dodrupchen Rinpoche. Among the many great masters from whom he received teachings were Jamyang Khyentse Chökyi Lodrö, the Sixth Dzogchen Rinpoche, Shechen Kongtrul, Dzogchen Khenpo Gönpo and Gyarong Namtrul Rinpoche. From Yukhok Chatralwa, who was a manifestation of Vimalamitra, and from Apang Tertön, he received the final teachings on the meaning of Dzogpachenpo, which he practised under their guidance.
他師從多竹千寺(多智欽寺)和佐欽寺的大堪布們。在十一歲的時候,他從第三世多竹千仁波切的弟子――堪布袞巴(Kunpal)處領受了《寜提.雅喜(四品心髓)》以及《龍欽心髓》的灌頂與口傳。給予他法教的偉大上師們,還包括蔣揚.欽哲.確吉.羅卓(Jamyang Khyentse Chökyi Lodrö)、第六世佐欽仁波切、雪謙.康楚(Shechen Kongtrul)、佐欽.堪布貢波(Gönpo),以及嘉絨.南楚仁波切(Gyarong Namtrul Rinpoche)。他還從無垢友尊者的化身――玉科.夏札瓦(Yukhok Chatralwa)處,以及阿龐伏藏師(Apang Tertön)處,領受了「大圓滿」密義的最終教法,並在他們的指導下進行實修。
At the age of nineteen, he made a pilgrimage to Central Tibet, and completed a retreat in the room of Jikmé Lingpa at Tsering Jong. At Dodrupchen monastery, he built a Scriptural College, and he provided the woodblocks for printing the Seven Treasures of Longchenpa. He gave many major teachings, especially in the eastern part of Tibet.
十九歲時,他前往中藏朝聖,並在澤仁炯(Tsering Jong)尼院的吉美.林巴屋內進行了閉關。在多竹千寺,他建造了一座經院,並提供木版以印製龍欽巴尊者的《七寶藏》。他傳授了眾多主要的教法,尤其在東藏地區。
On account of the changing political situation, Dodrupchen Rinpoche left Tibet and arrived in Sikkim in October 1957; from then on, he made Gangtok his permanent residence. Once again he subsidized the printing of many books, including Longchenpa's Seven Treasures and Trilogy of Finding Comfort and Ease. He has given many empowerments, transmissions and teachings in Sikkim, where he has two monasteries, in Bhutan, where he also heads a monastery, and in India and Nepal. Dodrupchen Rinpoche recognized the Seventh Dzogchen Rinpoche, whose enthronement was held in the Royal Temple at Gangtok in 1972.
考慮到政治局勢的變化,1957年10月,多竹千仁波切離開西藏而來到錫金。從那時起,他就以甘托克(Gangtok)做為他的永久駐錫地。仁波切再一次贊助印刷了許多書籍,包括《龍欽巴七寶藏》和《三自休息論》。他在錫金、不丹、印度和尼泊爾給予了許多灌頂、口傳與教學。他在錫金有兩所寺院,在不丹也有一所。多竹千仁波切認證了第七世佐欽仁波切,後者於1972年在甘托克的皇家寺院舉行了陞座儀式。
A master whose quiet, gentle and unassuming demeanour is complemented by a tremendous presence, Dodrupchen Rinpoche attends to the everyday spiritual needs of the people of Sikkim, and personally looks after the welfare of over four hundred monks in his care.
多竹千仁波切是一位平靜、溫和、舉止謙遜的上師,然而他的出現卻有一種巨大的存在感。仁波切照顧著錫金人民的日常修行需求,並親自護持四百多位僧人的福祉。
He has made a number of visits to the West, his first being in 1973, when he established a centre called the Maha Siddha Nyingmapa Centre in Massachusetts. Dodrupchen Rinpoche has also visited Britain, France and Switzerland, and in 1975, gave the empowerment of Rigdzin Düpa at Sogyal Rinpoche's request in London. He was present at Rigpa's summer retreats at Brunissard in 1989 and Chateau de Cassan in 1991.
他曾多次出訪西方。第一次是在1973年,那時他在麻薩諸塞州建立了大成就者寧瑪巴中心(Maha Siddha Nyingmapa Centre)。多竹千仁波切也曾到訪英國、法國和瑞士。1975年,應索甲仁波切之請,他在倫敦給予了《持明總集》(Rigdzin Düpa )的灌頂。在1989年和1991年,仁波切還分別出席了在法國布鲁尼薩德(Brunissard )和卡桑堡(Chateau de Cassan)的本覺會夏日閉關。
臉書連結:第四世多智欽仁波切(音譯:多竹千仁波切)— 土登.聽列.巴.桑波 (the 4th Dodrupchen Rinpoche, Tubten Trinlé Pal Zangpo)
Students
Publications
Kyabje Dodrupchen Rinpoche, Liberation from Samsara: Oral Instructions on the Preliminary Practices of Longchen Nyingthig (Levellers Press, 2013)
Further Reading
Tulku Thondup, Masters of Meditation and Miracles, Shambahala, 1999, pages 314-331.
Nyoshul Khenpo, A Marvelous Garland of Rare Gems: Biographies of Masters of Awareness in the Dzogchen Lineage, Padma Publications, 2005, pages 326-338, contains the translation of an autobiography of Dodrupchen Rinpoche written in 1975.
Internal Links
External Links
Rigpa Wiki
""Decode Wiki"" hereby provides the Chinese translation of certain contents from ""Rigpa Wiki"" with permission for all readers and free of charge, however, does not serve as its official translation. Suggestions and corrections are highly appreciated.
「解密維基」經「本覺維基」同意將其網站內容進行中譯並提供讀者免費參照,但非該網之官方中譯。敬請各方不吝指教。