Chatral Sangye Dorje 夏扎/賈札.桑傑.多傑
跳至導覽
跳至搜尋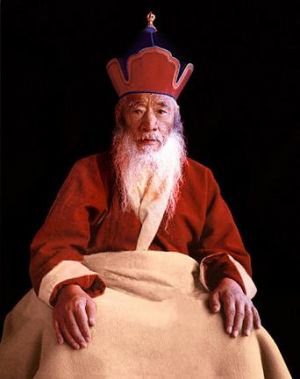 Kyabjé Chatral Rinpoche, Sangye Dorje (Tib. བྱ་བྲལ་སངས་རྒྱས་རྡོ་རྗེ་, Wyl. bya bral sangs rgyas rdo rje) (b.1913) — a renowned Dzogchen master. Chatral Rinpoche is a reclusive yogin known for his great realization and strict discipline. Rinpoche is one of the few living disciples of the great master Khenpo Ngakchung and widely regarded as one of the most highly realized Dzogchen yogins. In addition to his relationship with Khenpo Ngakchung, Chatral Rinpoche also studied with some of the last century's most renowned masters, including Dudjom Rinpoche, Jamyang Khyentse Chökyi Lodrö, and the famed dakini, Sera Khandro. Rinpoche is one of the primary lineage holders of the Longchen Nyingtik, and in particular the lineage that descends through Jigme Lingpa's heart son Jikmé Gyalwé Nyugu and then on to Patrul Rinpoche.
怙主夏扎/賈札仁波切桑傑.多傑,是一位(年近)百歲的著名大圓滿上師,一位隱遁的瑜伽士,以其偉大證量與嚴格紀律而聞名。仁波切是偉大上師堪布那瓊(Khenpo Ngakchung)少數仍在世的弟子之一,普遍被認為是具最高證量的大圓滿瑜伽士之一。除了與堪布那瓊的關係之外,賈札仁波切也與上世紀最富盛名的幾位大師學習,包括敦珠仁波切(Dudjom Rinpoche)、蔣揚.欽哲.確吉.羅卓(Jamyang Khyentse Chökyi Lodrö),以及著名的空行母色拉.康卓(Sera Khandro)。仁波切是龍欽心髓傳承(Longchen Nyingtik)的主要傳承持有者之一,特別是由吉美林巴(Jigme Lingpa)心子吉美.嘉威.紐固(Jikmé Gyalwé Nyugu)傳至巴楚仁波切(Patrul Rinpoche)的這支傳承。
Though his main lineage is the Longchen Nyingtik, Chatral Rinpoche is also closely associated with the Dudjom Tersar lineage. He was empowered as the regent of Kyabjé Dudjom Rinpoche and is currently passing on this lineage to this master's reincarnation, who lives primarily in central Tibet.
雖然賈札仁波切的主要傳承為龍欽心髓,他與敦珠新巖藏的傳承也關係密切。他被授權為怙主敦珠仁波切的攝政,現在正將此傳承授予這位怙主的轉世,其目前常駐於藏地中部。
Chatral Rinpoche has shunned institutional and political involvement his whole life, choosing instead to live the life of a wandering yogin. A lay yogin, he is also greatly concerned with maintaining strict discipline in the context of the Dzogchen view. He is especially well known for his advocacy of vegetarianism and his yearly practice of ransoming the lives of thousands of animals in India. In addition to his emphasis on the union of view and conduct, Rinpoche also stresses the practice of retreat. He has established numerous retreat centers throughout the Himalayas, including in Pharping, Yolmo and Darjeeling.
賈札仁波切一生避免與體制及政治有所往來,進而選擇過著流浪瑜伽士的生活。直到今日,儘管年事已高,他仍然不斷遷移,很少在同一處待下超過幾個月的時間。他身為在家的瑜伽士,仍以大圓滿的見地,高度持守嚴格的戒律。他特別著名的是推動素食,每年在印度放生數以千計的動物。除了強調見地與行持的合一之外,仁波切也同樣注重閉關的修持。他於喜馬拉雅山區建立了大量的閉關中心,包括在帕平(Pharping)、幽畝(Yolmo)以及大吉嶺(Dajeeling)等地。
Rinpoche currently divides his time between Salbhari, India, and Kathmandu, Nepal. He has two daughters, Tara Devi and Saraswati, with his wife Sangyum Kamala.
仁波切目前將時間分配於印度的薩爾巴里(Salbhari)和尼泊爾的加德滿都。他有兩個女兒,達拉.德葳(Tara Devi)與薩惹思瓦娣(Saraswati),以及妻子噶瑪拉(Kamala,即Sangyum Kamala Rinpoche,桑嫞噶瑪拉仁波切)。

備註:法王於2015年12月30日於尼泊爾圓寂,生前囑咐兩件事,第一:我過世後不需再轉世;第二:汝等不用悲傷,也不用祈禱迅速降臨和認證轉世。參見昆努仁波切臉書 https://www.facebook.com/negikhunurinpoche/posts/439390842920622/

Writings
Further Reading
Internal Links
External Links
Rigpa Wiki
""Decode Wiki"" hereby provides the Chinese translation of certain contents from ""Rigpa Wiki"" with permission for all readers and free of charge, however, does not serve as its official translation. Suggestions and corrections are highly appreciated.
「解密維基」經「本覺維基」同意將其網站內容進行中譯並提供讀者免費參照,但非該網之官方中譯。敬請各方不吝指教。