Chökyi Nyima Rinpoche 確吉.尼瑪仁波切
跳至導覽
跳至搜尋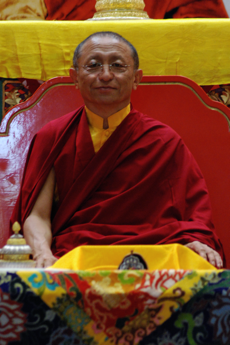 Chökyi Nyima Rinpoche (Wyl. chos kyi nyi ma rin po che) (b.1951) — as the oldest son of Kyabjé Tulku Urgyen Rinpoche, Chökyi Nyima Rinpoche was recognized at 18 months of age as the seventh incarnation of Gar Drubchen, a Drikung Kagyü master and an emanation of Nagarjuna. Soon after, he was enthroned at his predecessor's monastery, Drong Gon Tubten Dargye Ling Monastery, in Nakchukha, Central Tibet.
確吉.尼瑪仁波切(1951年生)是怙主祖古.烏金仁波切的長子,他在一歲半時被認證為噶.竹千(Gar Drubchen)的第七世,而噶.竹千乃是龍樹菩薩所化身的一位直貢噶舉(Drikung Kagyu)上師。不久之後,仁波切於其前世的寺廟陞座,該寺即位於中藏那曲喀(Nakchukha)的仲貢圖丹達傑林(Drong Gon Tubten Dargye Ling Monastery)。
At the age of 13, he entered Rumtek Monastery and spent the next eleven years studying the Karma Kagyü, Drikung Kagyü and Nyingma traditions under the guidance of the 16th Gyalwang Karmapa, Kyabjé Dilgo Khyentse Rinpoche, Kyabjé Tulku Urgyen Rinpoche and other eminent masters. Before leaving Rumtek, Rinpoche successfully completed the coursework set out for tulkus.
仁波切於十三歲時進入隆德寺,其後十一年間在第十六世嘉華.噶瑪巴、怙主頂果.欽哲仁波切、怙主祖古.烏金仁波切和其他卓越上師的指導下,學習噶瑪噶舉、直貢噶舉和寧瑪傳承的法教。在離開隆德寺前,仁波切成功地圓滿了為轉世祖古所安排的全套課程。
In 1974, Tulku Chökyi Nyima was instructed by the Karmapa to help his father to establish a monastery in the Kathmandu Valley. He also advised Rinpoche to turn his efforts towards instructing western practitioners. Rinpoche has a good command of the English language, and has been instructing a growing number of western students in meditation practice since 1977.
在1974年,噶瑪巴指派祖古確吉.尼瑪仁波切協助他的父親,以建造位於加德滿都山谷的一座寺院。他也指示仁波切轉而致力於指導西方的修行者。仁波切精通英文,並且自1997年開始,持續指導日益增多的西方禪修學生。
臉書連結:確吉尼瑪仁波切(Chökyi Nyima Rinpoche)
Publications
Bardo Guidebook, Rangjung Yeshe Publications, Nepal, 1991 ISBN 9627341118
The Song of Karmapa: Aspiration of the Mahamudra of True Meaning by Lord Rangjung Dorje, Rangjung Yeshe Publications, Nepal, 1992 ISBN 9627341142
The Indisputable Truth, Rangjung Yeshe Publications, Nepal, 1996 ISBN 9627341274
Present Fresh Wakefulness: A Meditation Manual on Nonconceptual Wisdom , Rangjung Yeshe Publications, Nepal, 2002 ISBN 9627341479
The Union of Mahamudra and Dzogchen, Rangjung Yeshe Publications, Nepal, 2006 ISBN 9627341215
Chökyi Nyima Rinpoche with David R. Shlim, Medicine and Compassion: A Tibetan Lama's Guidance for Caregivers, Wisdom Publications, 2006 ISBN 0861715128
Visits to Rigpa Centres
Rigpa London, 9 January 2010, 'The Three Great Views – Madhyamaka, Mahamudra and Dzogchen'
Lerab Ling, 17-22 September 2009
Lerab Ling, 17-23 August 2008
Rigpa Amsterdam, 26 June 2007
Rigpa London, 9 September 2003
San Francisco, 15 July 2003
Berkley, 1 July 2002
San Francisco, 15-16 September 2001
San Francisco, 5 September 2000
San Francisco, 11-13 September 1998
Lerab Ling, 24-26 August 1998
Oakland, 29 August-1 September 1997
Cologne, 18 September 1994
Dzogchen Orgyen Chö Ling, London, 1981 with Tulku Urgyen Rinpoche
External Links
Rigpa Wiki
""Decode Wiki"" hereby provides the Chinese translation of certain contents from ""Rigpa Wiki"" with permission for all readers and free of charge, however, does not serve as its official translation. Suggestions and corrections are highly appreciated.
「解密維基」經「本覺維基」同意將其網站內容進行中譯並提供讀者免費參照,但非該網之官方中譯。敬請各方不吝指教。