Bokar Rinpoche 波卡仁波切
跳至導覽
跳至搜尋
Bokar Rinpoche ((Wyl. 'bo dkar rin po che) or Karma Ngedön Chökyi Lodrö (kar+ma nges don chos kyi blo gros) (1940-2004) — heart-son of Kalu Rinpoche and an important holder of the Karma Kagyü and Shangpa Kagyü lineages. He taught many Western students of Kalu Rinpoche, and established centres in the West, mainly in France. He founded a monastery and retreat centre in Mirik, India, which holds the special lineage of Kalachakra practice.
波卡仁波切,或稱噶瑪給頓確吉羅卓(生於1940年卒於2004年),是卡盧仁波切的心子,也是噶瑪噶舉和香巴噶舉的重要傳承持有者。仁波切教導許多卡盧仁波切的西方學生,並在西方建立幾處中心,主要則是在法國的道場。他在印度的米里克設立了一個研修時輪金剛殊勝傳承的寺院和閉關中心。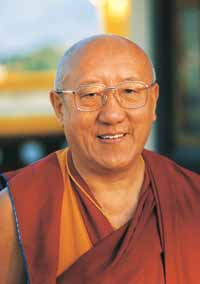 Publications in English 著作
Chenrezig, the Lord of Love
Day of a Buddhist Practitioner
Death and the Art of Dying
Mahamudra Meditation
Meditation Advice to Beginners
Opening the Door to Certainty
Profound Wisdom of the Heart Sutra
Taking the Bodhisattva Vow
Tara: The Feminine Divine (靈鷲山出版社:《波卡仁波切談度母》)
Publications in French, Editions Claire Lumière
L'Aube du Mahamoudra
La Journée d'un bouddhiste
Méditation (La) - Conseils aux Débutants
Mort et art de mourir dans le bouddhisme tibétain
La Porte du sens définitif Prendre refuge - L'entrée dans le bouddhisme
Savoir méditer
Soleils du Dharma - 1
Soutra du cœur (Le)
Tara. L'éveil au féminin
Tchènrézi - Clé pour la méditation des divinités
Le Vœu de Bodhisattva
Un Cœur sans Limites
External Links
Rigpa Wiki
""Decode Wiki"" hereby provides the Chinese translation of certain contents from ""Rigpa Wiki"" with permission for all readers and free of charge, however, does not serve as its official translation. Suggestions and corrections are highly appreciated.
「解密維基」經「本覺維基」同意將其網站內容進行中譯並提供讀者免費參照,但非該網之官方中譯。敬請各方不吝指教。